Thomas Rhett Ramps Up The Party Anthems At Album Release Party In Nashville
By Kelly Fisher
April 5, 2022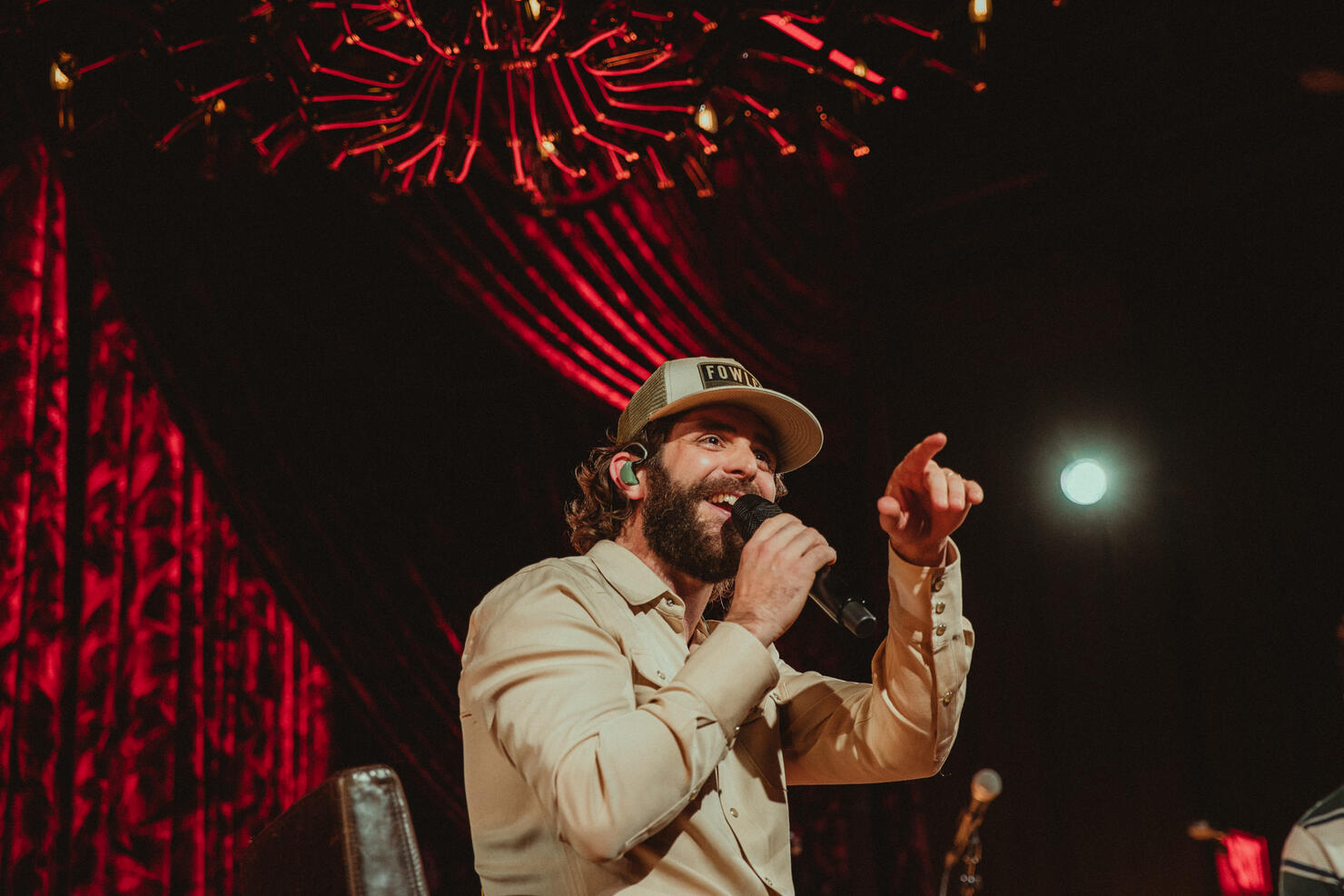 Photo: Adrianna Casiano for iHeartRadio
Thomas Rhett performed everything from his newest songs to an "oldie but a goodie" at his exclusive iHeartRadio Album Release Party in Nashville on Monday evening (April 4). The award-winning country artist just released Where We Started, his sixth studio album and the first of two that's set to release this year, followed by Country Again: Side B, on Friday (April 1). Rhett's latest project includes his smash single "Slow Down Summer," as well as star-studded collaborations — with Florida Georgia Line's Tyler Hubbard, Russell Dickerson, Riley Green and Katy Perry — and other fan-favorite tracks.
Rhett kicked off the exclusive album release party with his nostalgic anthem "Slow Down Summer," moving on to other new songs like "Church Boots" and "Angels." Rhett noted to the crowd that even his wife of nearly 10 years, Lauren Akins, hasn't heard him perform some of his latest songs live, including the one that's his kids' favorite. Speaking with host Bobby Bones in between live performances, Rhett revealed that "Church Boots" is his daughter Lennon Love's favorite song. Lennon, 2, often requests "daddy's song" repeatedly (and/or songs from the hit Disney movie Encanto). "Angels" is one of Rhett's favorites, he said, because it's "a new way to say 'I love you' to my wife."
When asked about how he opted to release a new album in between Country Again: Side A and Side B, Rhett reflected:
"This wasn't even supposed to happen, to be honest with you… Once I got back on the road in 2021 we played this string of shows in Dallas, and we had all these songs on Country Again: Side A ready to play, and we went out and played, and I kind looked out into the crowd and I was like, 'man, I feel like people might have forgotten how to do some things, but they did not forget how to party.' I'm noticing that as I'm looking out here, and people did not forget how to dance, and I think what I thought I was doing for Side B, I wasn't fully done with it, if that makes any sense. So, I called some of my cowriter buddies, we started writing one song, and then two songs, and that turned into like 50. We just had a whole different project. That's kind of the best way I know how to explain it. But I think getting back on the road and feeling that energy of being in front of real people kind of changed a little bit of my writing concept. But Side B will be here, for sure."
Rhett's iHeartRadio Album Release Party also included listening to "The Hill" — a track that Rhett said "hit me like a ton of bricks" from the first time he heard it — "Bring The Bar," "Somebody Like Me," "Simple As A Song," "Bass Pro Hat" and others. Fans also got to hear "Half Of Me," Rhett's collaboration with Green, and "Death Row," his sobering song with Dickerson and Hubbard.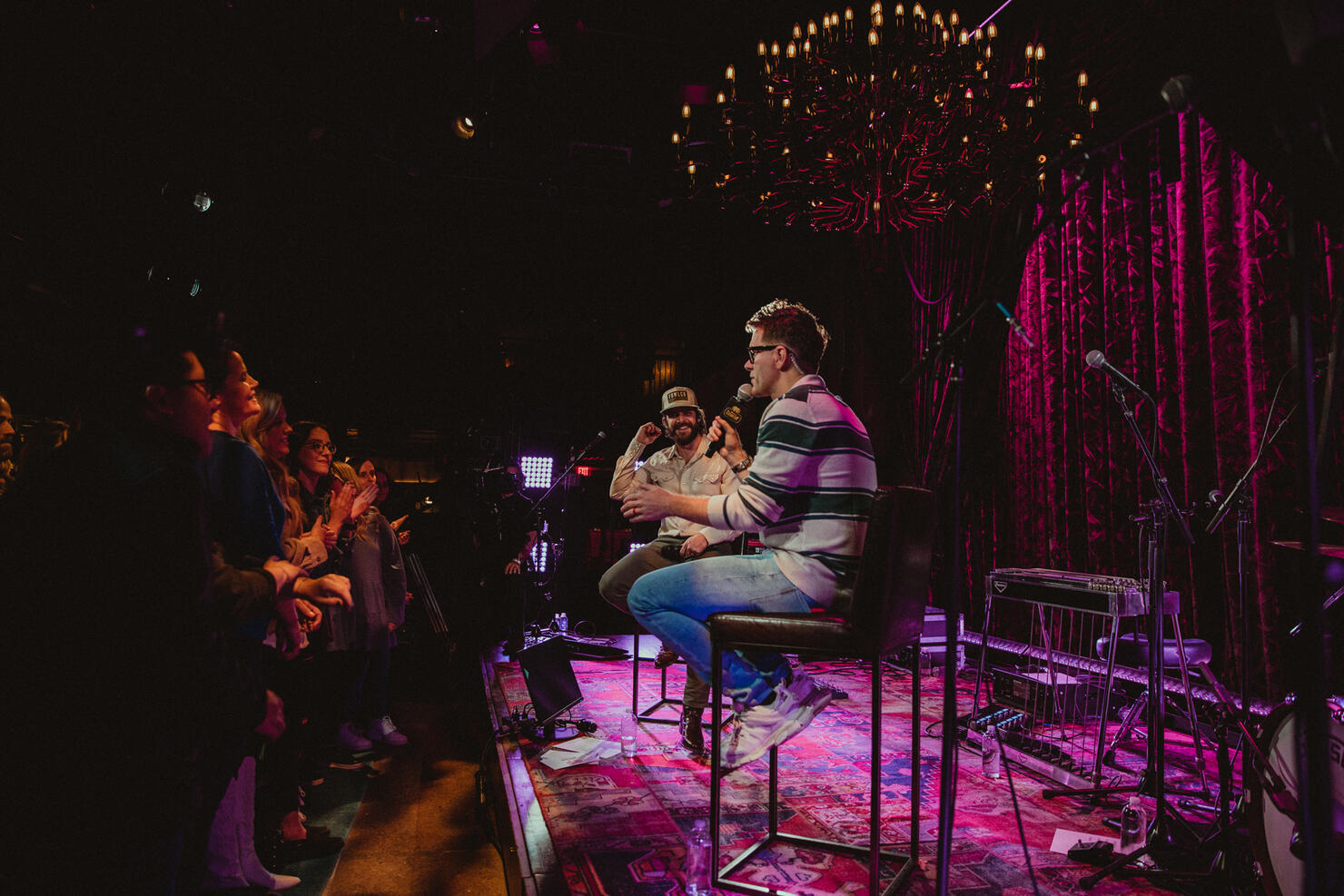 Photo: Adrianna Casiano for iHeartRadio
Rhett told Bobby Bones that he wrote "Bring The Bar," his tour's namesake, in a Dallas hotel room with his dad, Jesse Frasure, Ashley Gorley and Parker Welling. The group just finished writing "What's Your Country Song" before moving on to "Bring The Bar." "We wanted to write something that felt completely opposite from what we'd just written. And I had been listening to a bunch of Latin, Spanish music… It makes me go crazy when I hear it. So, I thought, 'what if we did something like that?' It's definitely a different-sounding track on the record, but, if that doesn't put a smile on your face, it's your own fault!"
That songwriting experience wasn't the first time Rhett's singing and songwriting was influenced by his father, Rhett Akins, and because he was raised by an artist, Rhett was around tons of country singers throughout his life. He recalled, for example, a time that Blake Shelton helped him with his homework. Jason Aldean, Luke Bryan and others have served as "advice givers" and mentors throughout his career.
Where We Started is packed with new songs and storytelling from Rhett. He closed his album release party with an "oldie but a goodie" from his 2017 album Life Changes, "16," getting the whole crowd singing along.
Rhett is one of many artists included in the star-studded lineup at the iHeartCountry Festival presented by Capital One, set for May 7 in Austin, Texas. Fans can tune in and stream the 2022 iHeartCountry Festival on iHeartMedia's Country music radio stations in local markets across the country, as well as on iHeartRadio.com and the iHeartRadio app on May 7th at 8pm ET/5pm PT (7pm CT). Tickets are on sale now via Ticketmaster.com.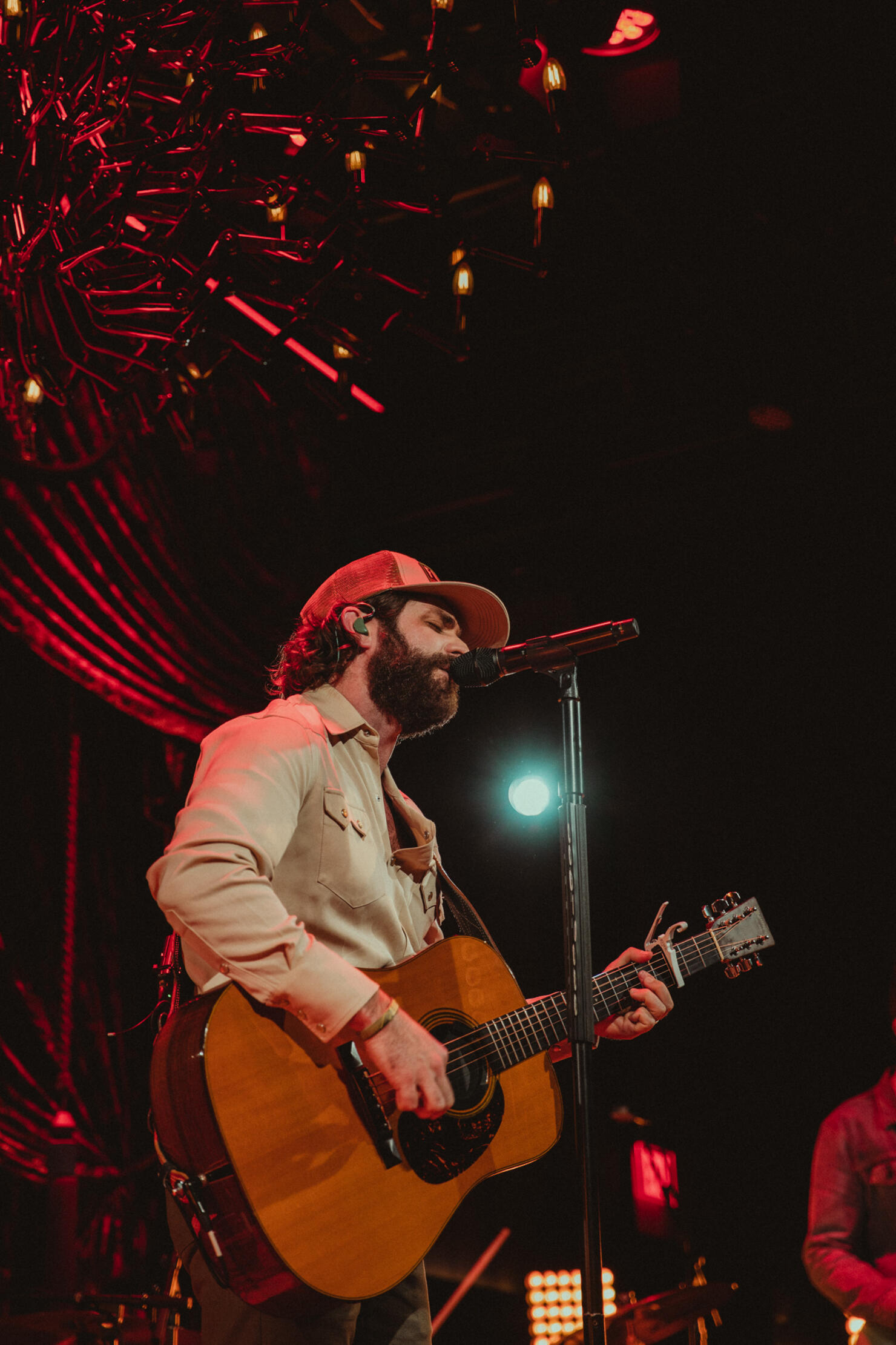 Photo: Adrianna Casiano for iHeartRadio
See the Where We Started track list below. Find Rhett on iHeartRadio here.
1. "The Hill" | Lori McKenna, Jordan Reynolds, Emily Weisband
2. "Church Boots" | Thomas Rhett, Jesse Frasure, Ashley Gorley, Ernest Keith Smith
3. "Bass Pro Hat" | Thomas Rhett, Matt Dragstrem, Joshua Miller, Josh Thompson
4. "Anything Cold" | Thomas Rhett, Jesse Frasure, Ashley Gorley, Shane McAnally
5. "Angels" | Thomas Rhett, Julian Bunetta, Jaten Dimsdale, Josh Thompson
6. "Half Of Me" (featuring Riley Green) | Thomas Rhett, Rhett Akins, Will Bundy, Josh Thompson
7. "Bring The Bar" | Thomas Rhett, Rhett Akins, Jesse Frasure, Ashley Gorley, Parker Welling
8. "Paradise" | Thomas Rhett, Matt Dragstrem, Ernest Keith Smith, Josh Thompson
9. "Death Row" (featuring Tyler Hubbard, Russell Dickerson) | Thomas Rhett, Zach Crowell, Ashley Gorley 
10. "Mama's Front Door" | Thomas Rhett, Matt Dragstrem, Ashley Gorley, Chase McGill
11. "Slow Down Summer" | Thomas Rhett, Rhett Akins, Sean Douglas, Jesse Frasure, Ashley Gorley
12. "Simple As A Song" | Thomas Rhett, Luke Laird, Josh Thompson
13. "Us Someday" | Thomas Rhett, Rhett Akins, Jesse Frasure, Amy Wadge
14. "Somebody Like Me" | Thomas Rhett, Rhett Akins, Matt Dragstrem, Josh Thompson
15. "Where We Started (with Katy Perry) | Thomas Rhett, Jon Bellion, Jesse Frasure, Ashley Gorley