Former Michigan State Star Adreian Payne's Cause Of Death Revealed
By Jason Hall
May 10, 2022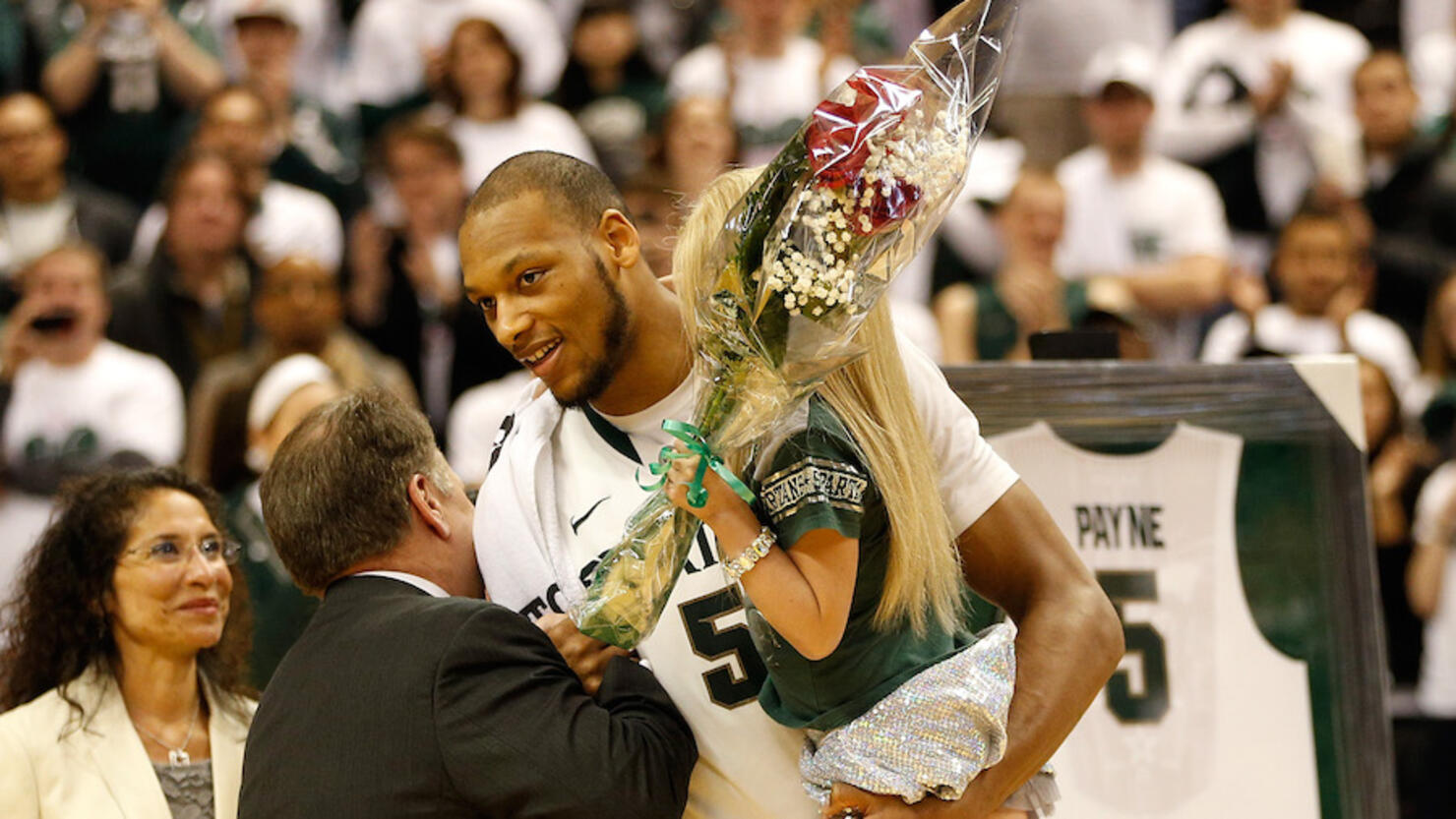 Former Michigan State men's basketball star Adreian Payne was shot and killed after attempting to intervene in a domestic dispute unarmed, according to court documents obtained by MLive.com.
The 31-year-old was shot while standing next to his car at 1:37 a.m. in Orlando and pronounced dead at a local hospital on Monday (May 9), the Orange County Sheriff's Office confirmed.
Lawrence Dority was arrested on a warrant of first-degree murder and claimed he shot Payne in an act of self-defense, however, OCSO Detective Christopher Gilbert wrote that Payne "did not pose an immediate threat to Dority" and that Dority specifically left the scene to obtain the weapon used in the shooting.
Police said Payne's girlfriend, identified in documents as 'Tara,' was asked to come to Dorty's house to mediate in an argument between Dority and his girlfriend, Tatiana.
Dority arrived at his home and found Payne and Tara sitting in a parked car outside the house after midnight.
Dority approached the vehicle and an argument with Payne ensued before Dority went into the house and retrieved a 9 mm handgun, went back outside and fired one shot at Payne, according to police documents.
Payne's death was initially reported by former Ohio State and NBA big man Jared Sullinger Sr. and later confirmed by Detroit Free Press reporter Chris Solari.
"Hate the news i received this morning…. Rest Easy to my brother/Teammate @Adreian_Payne," Sullinger tweeted on Monday.
Payne was four-year starter at Michigan State, averaging 16.4 points and 7.3 rebounds per game during his senior season, which earned him Second Team All-Big Ten honors.
The center also gained national attention during the 2013-14 season for his friendship with Lacey Holsworth, an 8-year-old cancer patient whom he met during a team-sponsored visit to a hospital in 2011.
Holsworth accompanied Payne at center court on Senior Night and helped him cut down the nets after the Spartans' Big Ten Men's Basketball Tournament championship, shortly before her death on April 8, 2014.
Michigan State head coach Tom Izzo, who coached Payne during all four years of his collegiate career, said he was "in shock" following news of his death in a statement obtained by MLive.com on Monday.
"Our prayers are with his family, teammates and loved ones," Izzo said in a statement on Monday afternoon. "Adreian was loved by his teammates and coaches, who respected his development as a player and a person. He came to Michigan State with a ton of raw talent and put in the work to reach his goal of becoming an NBA player."
Golden State Warriors forward Draymond Green -- Payne's former teammate at Michigan State -- told reporters that he and his wife, Hazel, planned to donate $100,000 to a fund in honor of Payne and called on notable members of the "Spartan family," including Izzo and Basketball Hall of Famer Earvin 'Magic' Johnson to "do something in honor of Adreian."
"I will give you guys the greatest press conference after Wednesday's game, but I just don't have it in me tonight. I truly apologize."

Draymond Green announced that he & his wife Hazel will donate $100K to a fund in honor of the late Adreian Payne🙏🏽pic.twitter.com/54MGeH4jHa

— ClutchPoints (@ClutchPointsApp) May 10, 2022
"I will give you guys the greatest press conference after Wednesday's game, but I just don't have it in me tonight. I truly apologize," Green said after the Warriors' 101-98 victory against the Memphis Grizzlies in Game 4 of the Western Conference Semifinals playoff series.
Payne was selected by the Atlanta Hawks at No. 15 overall in the 2014 NBA Draft and split his professional playing career between the NBA and international leagues, which included stints with the Hawks (2014-15), Minnesota Timberwolves (2015-17) and Orlando Magic (2017-18).
Payne most recently played for Juventus Utena of the Lithuanian Basketball League, averaging 8.6 points, 4.6 rebounds and 1.1 steals per game before leaving the team in February 2022.