10 Artists Who Have Helped Spread Mental Health Awareness
By Rebekah Gonzalez
May 19, 2022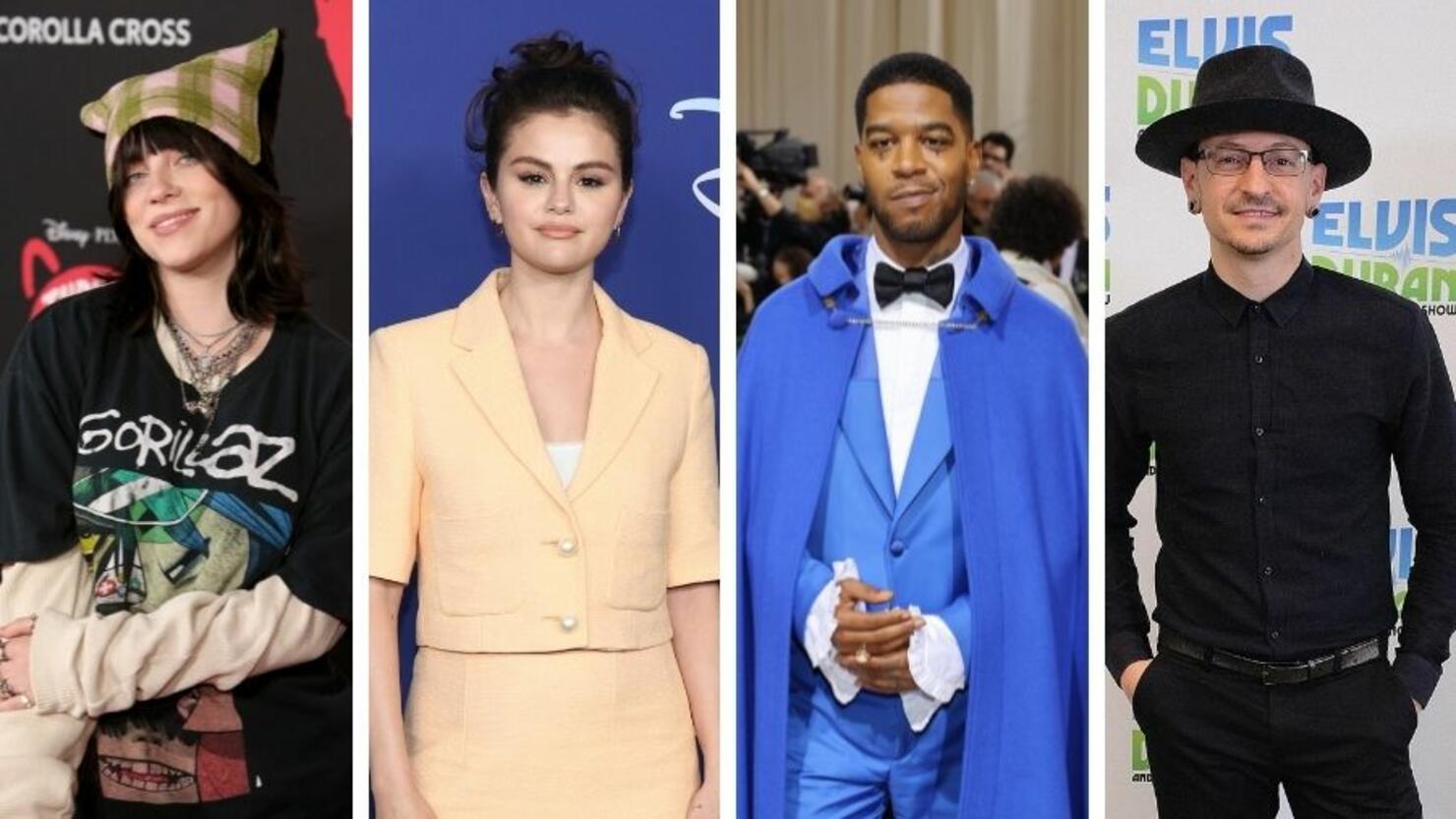 May is Mental Health Awareness Month and the National Alliance on Mental Illness (NAMI) has announced that 2022's goal is to amplify the message of "Together for Mental Health." A big part of reaching that goal is sharing personal stories to destigmatize mental illness. Some of the biggest music artists in the world have shared their stories of mental health struggles and by doing so, spread awareness and encouraged other people to speak out and get help.
To continue spreading awareness, here are 10 artists who have used their platforms to advocate for mental wellness over the years [The following article contains mentions of suicide and self-harm. If you or someone you know is considering suicide or is in emotional distress, please contact the National Suicide Prevention Lifeline at 1-800-273-TALK (8255), text "STRENGTH" to the Crisis Text Line at 741-741, or go to suicidepreventionlifeline.org]:
The 20-year-old music sensation has been one of the most open and vocal when it comes to mental health. In 2019, at just 17, Billie discussed her struggles with depression, anxiety, body dysmorphia, and self-harm. In a CBS This Morning interview with Gayle King, Eilish told the co-host she seriously considered taking her own life before turning 17. She shared that her mom was the reason she didn't go through with her plan. In her 2021 documentary Billie Eilish: The World's A Little Blurry, she further discussed her mental health battles as a young teen and living with Tourette's syndrome. Now, she does her best to support fans who struggle with similar conditions. "I just grab [fans] by the shoulders and I'm like, 'Please take care of yourself and be good to yourself and be nice to yourself. Don't take that extra step and hurt yourself further."
At the height of Lady Gaga's mainstream success in 2011, the pop star opened up about the severe bullying she endured during her adolescence. She developed anxiety and depression and struggled with mental illness throughout college. Seeing her often young and LGBTQ+ fans struggle as she did prompted the singer to launch the Born This Way Foundation with her mother Cynthia Germanotta in 2012 to help young people connect with resources for mental wellness. Years later, Gaga opened up about the PTSD she developed after being assaulted at the age of 19. "It is my personal dream that there would be a mental health expert teacher or therapist in every school in this nation and hopefully, one day, around the world," she said during her 2018 ELLE Women in Hollywood acceptance speech. "Let's lift our voices. I know we are, but let's get louder. And not just as women. But as humans."
Chester Bennington
The death of Linkin Park's beloved frontman Chester Bennington shocked music lovers everywhere. But long before his suicide on July 20, 2017, the singer had been very honest about the lifelong battle with his mental health. The tragedy sparked a national conversation about understanding the signs of suicide and his wife Talinda Bennington appeared in a CNN Town Hall called Finding Hope: Battling America's Suicide Crisis. "I am now more educated about those signs, but they were definitely there: the hopelessness, the change of behavior, isolation," she told Anderson Cooper. Bennington struggled with depression and substance abuse for the majority of his life. In an interview with Music Choice he opened up about his struggle: "My whole life, I've just felt a little off. I find myself getting into these patterns of behavior or thought – especially when I'm stuck up here [in my head]; I like to say that 'this is like a bad neighborhood, and I should not go walking alone."
Rapper Kid Cudi has long been an advocate for mental health awareness. He is also frequently credited for helping open the door for other hip-hop artists to discuss mental health in their songs and in interviews. He first opened up about his mental illnesses in a Facebook message posted in 2016. At the time, it was a huge deal to openly discuss checking himself into rehab to deal with his depression, anxiety, and suicidal thoughts. Cudi's confession helped destigmatize addressing seeking mental health care and he still works to spread the message. In 2020 he participated in a Well Beings virtual town hall to launch a campaign addressing the youth mental health crisis.
Naomi Judd
In another shock to the music world, Country legend Naomi Judd passed just days before being inducted into the Country Music Hall of Fame. The talented singer (The Judds) and mother never shied away from talking about her battle with depression in interviews. In her 2016 memoir River of Time, she wrote about her trauma, depression, and suicidal ideation. Judd became a fierce advocate for mental health care. She worked with the National Alliance for the Mentally Ill and the Vanderbilt Psychiatric Hospital to spread the word about treatment for mental illness. She also penned a moving essay for NBC in 2017, ending it with a hopeful note: "If you've got a pulse, then you're fighting some battle, whether it's a diagnosis of depression, like 16 million people, or one of anxiety, like 42 million people, or something else. And there's power in numbers: it means that there are other people. You're not alone."
Over the decades "The Boss" has become known for his epic songs detailing the lives of working-class Americans, so it was a big moment when the musician shared his battle with depression in his autobiography Born to Run. "One of the points I'm making in the book is that, whoever you've been and wherever you've been, it never leaves you. I always picture it as a car. All your selves are in it. And a new self can get in, but the old selves can't ever get out," he wrote. "The important thing is, who's got their hands on the wheel at any given moment?"
Selena has gone above and beyond to keep revitalizing the national conversation around mental health. She's talked at length about living with bipolar disorder and is an advocate for mental health care. This month, she headed to the White House to join the Mental Health Youth Action Forum hosted by MTV Entertainment. "Mental health is very personal for me, and I hope that by using my platform to share my own story and working with incredible people like all of you, I can help others feel less alone and find the help they need, which is honestly all I want," she said at the event. In 2020, Selena launched the Rare Impact Fund which aims to help organizations working to increase access to mental health services in schools.
Country star Brett Eldrige has done his part in bringing the topic of mental health to country music audiences. He's opened up about his experiences with anxiety, panic attacks, and learning disabilities through songs and even sharing poetry dedicated to people who might be going through the same struggles. Eldredge continued to get candid about mental health by hopping on the POWERFUL Podcast on May 17. "Lives are changing right now over this conversation my brother… Thank you again for being so open and vulnerable and then teaching us all the tools that you have to live a better life… I'm incredibly grateful," the show's host Ed Mylett told the singer.
Critically-acclaimed rapper Kendrick Lamar made national headlines after revealing he struggles with depression and suicidal thoughts. On the song "u," off his Pultizer Prize-winning 2015 album To Pimp a Butterfly, Kendrick famously rapped, "I know your secrets… I know depression is restin' on your heart for two reasons… And if this bottle could talk I cry myself to sleep / Bitch everything is your fault… Shoulda killed yo ass a long time ago / You shoulda feeled that black revolver blast a long time ago / And if those mirrors could talk it would say 'you gotta go' / And if I told your secrets / The world'll know money can't stop a suicidal weakness."