Eminem Teases Song On 'Elvis' Biopic Soundtrack
By Yashira C.
May 24, 2022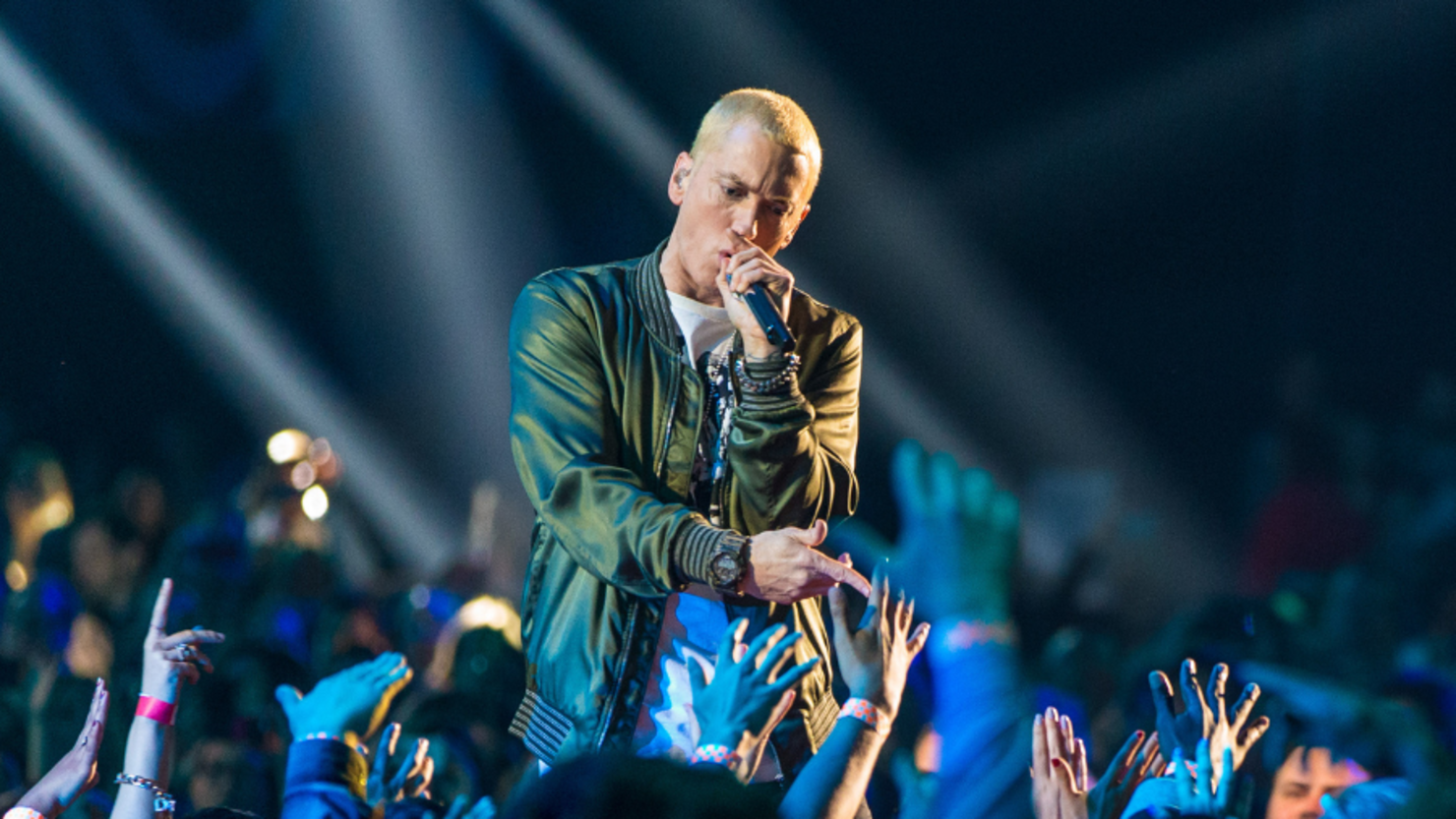 Eminem shared a snippet of his contribution to the Elvis soundtrack on social media today (May 23.)
The song is titled "The King And I" and is a collaboration with CeeLo Green. Austin Butler, who plays Elvis Presley in the upcoming biopic, is seen walking on stage to a crowd of roaring fans in the 15-second clip. The short snippet of the song seems to be based on Presley's "Jailhouse Rock" and Eminem can be heard rapping "It goes one for the trailer park/Two for my baby moms/Three for the tater tots/Four if you ate a lot." The film is set to release on June 24.
Listen to the snippet below.
The "Not Afraid" rapper isn't the only high-profile artist on the film's soundtrack. Doja Cat dropped "Vegas" earlier this month which samples Elvis' popular cover of Big Mama Thornton's "Hound Dog." She raps in the chorus, "You ain't nothing but a / Dog? Player, I get it Fraud? Player, I get it / I understand, I understand / You ain't the man, you ain't a man You ain't nothing but a / Hound dog." Other musicians on the soundtrack include Jack White, Jazmine Sullivan, Kacey Musgraves, Måneskin, Tame Impala, Stevie Nicks, and more.
Opposite Butler's Elvis is Tom Hanks as the singer's enigmatic manager Colonel Tom Parker. The film will explore the pair's complex relationship over 20 years from Presley's rise to fame to his unprecedented level of stardom. The trailer shows iconic moments of fangirls surging the stage and Elvis debuting his controversial and culture-shifting hip-shaking. Rounding out the cast, Olivia DeJonge will play one of the most significant people in Elvis's life, Priscilla Presley.
While it's expected to be the film of the summer, it also has a star-studded soundtrack accompanying it. Doja Cat has already released her song from the Original Motion Picture Soundtrack, "Vegas," which is featured in the trailer. Earlier this month, Italian rock sensations Måneskin revealed they would be included on the soundtrack with a cover of Elvis's "If I Can Dream."
ELVIS will open in theaters only on June 24.