Steve Kerr Delivers Emotional Message In Response To Texas School Shooting
By Jason Hall
May 25, 2022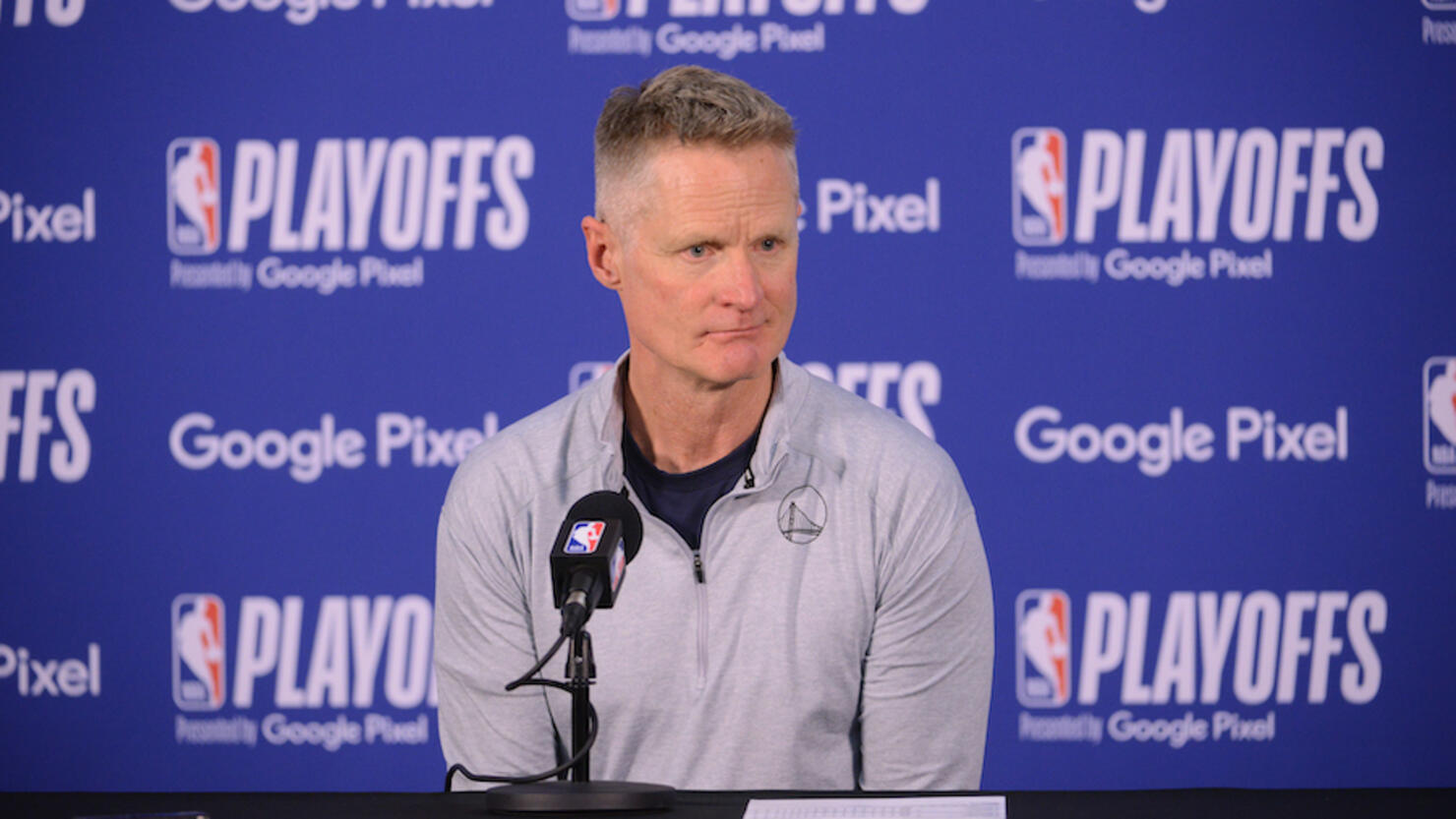 Golden State Warriors head coach Steve Kerr delivered an emotional message in response to the mass shooting at a Texas elementary school on Tuesday (May 24).
Ahead of Game 4 of the Western Conference Finals, Kerr addressed the shooting at Robb Elementary School in Uvalde, Texas, which resulted in the deaths 19 children and two adults, just days after a racially-motivated shooting at a Buffalo grocery store.
"When are we going to do something?" Kerr asked reporters during his pregame press conference.
"I'm so tired of getting up here and offering condolences to the devastated families that are out there — I'm tired of the moments of silence," he added while pounding the desk in front of him. "Enough!"
Kerr, 56, has been outspoken about gun-related issues, having lost his father, Malcolm, in a shooting committed by members of the Shia Lebanese militia while serving as president of the American University of Beirut in 1984.
Kerr was a college freshman at the University of Arizona at the time of his father's death.
The eight-time NBA champion then urged politicians to consider the lives of the American public over political ambitions and chastised some members of Congress for being resistant to universal background checks to strengthen gun laws.
"It's pathetic!" Kerr said. "I've had enough."
Warriors guard Stephen Curry, who quote-tweeted a video of Kerr's speech prior to Tuesday's 119-109 loss to the Dallas Mavericks, said he appreciated Kerr's leadership while addressing the comments during his own postgame press conference.
"I got kids, send them to school every day. Drop them off. And you feel for the parents that are going through what they are going through," Curry said via NBC Sports.
"I appreciate his leadership. It was on everybody's mind coming into the game."

Steph talks about Steve Kerr's emotional speech on today's school shooting in Texas pic.twitter.com/PTn6IUvoqN

— Warriors on NBCS (@NBCSWarriors) May 25, 2022
At least 19 children and two teachers were killed in a shooting at Robb Elementary School in Uvalde, Texas on Tuesday (May 24), the Texas Department of Public Safety confirmed Tuesday (May 24) night via NBC News.
Texas Gov. Greg Abbott publicly identified the shooter as Salvador Ramos, 18, who was "believed" to be killed by responding officers, on Tuesday afternoon.
"He shot and killed horrifically and incomprehensibly 14 students and killed a teacher," Abbott said during an unrelated press briefing via ABC News.
#BREAKING: Texas State Senator Roland Gutierrez (D) -- who represents Uvalde, Texas where the elementary school shooting took place -- says on CNN that the death toll is now *21* people, including 18 children. pic.twitter.com/0eF5PXhJMx

— Curtis Houck (@CurtisHouck) May 24, 2022
Ramos -- who had a handgun and possibly a rifle during the incident -- reportedly shot his grandmother before entering Robb Elementary School and once again opening fire, according to Gov. Abbott, who didn't provide additional details about the grandmother's status.
Local authorities confirmed "some people" died in the shooting, however, did not provide a confirmed total during a press conference held on Tuesday (May 24) afternoon.
The incident on Tuesday was the deadliest shooting at a U.S. elementary school since the 2012 incident at Sandy Hook Elementary in Newton, Connecticut, which resulted in the deaths of 20 children and six adults.