Taylor Swift Reveals New Album Release Date During 2022 MTV VMAs
By Kelly Fisher
August 29, 2022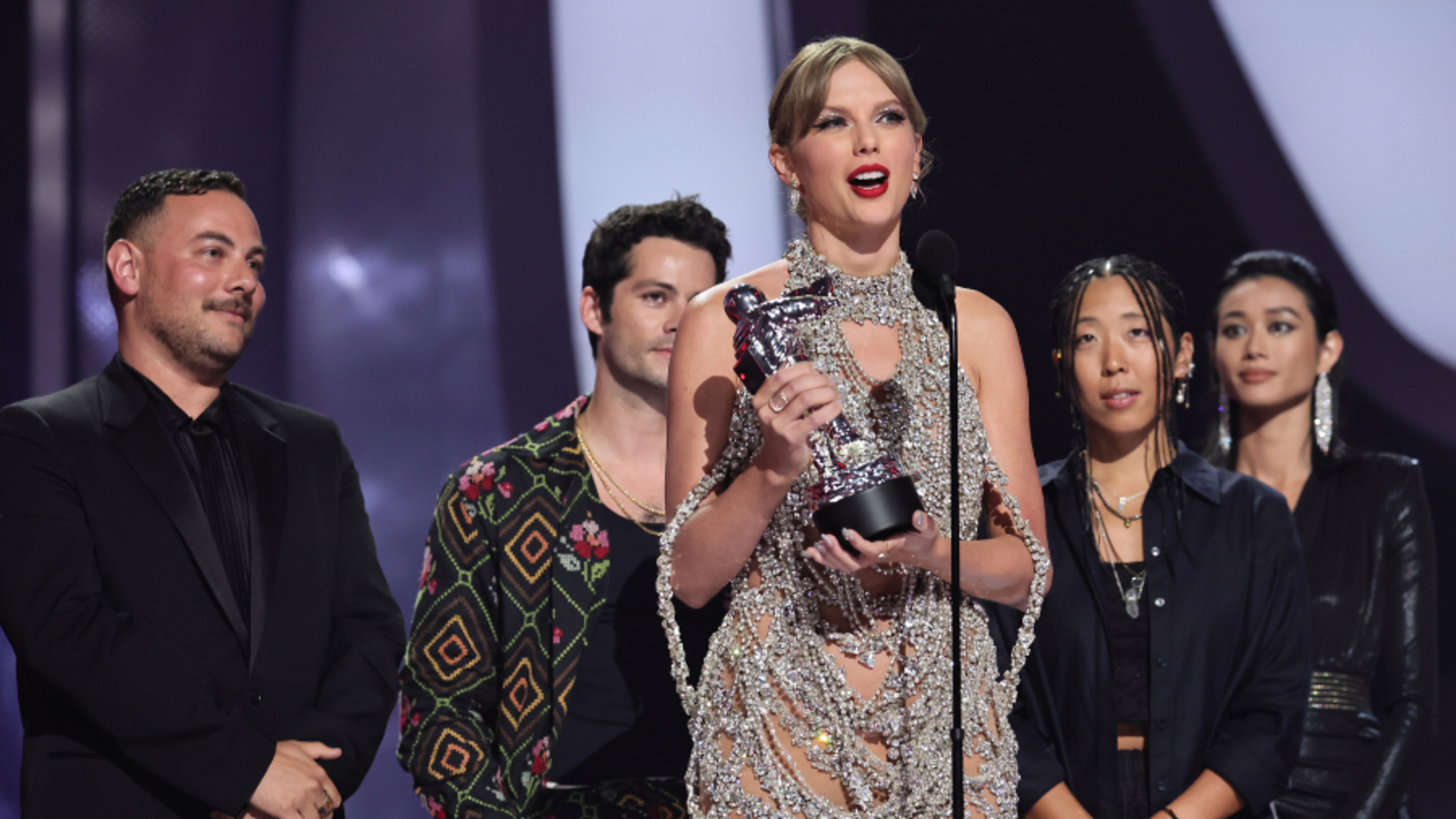 Taylor Swift just dropped the best surprise…
The "All Too Well" icon revealed during her acceptance speech at the 2022 MTV Video Music Awards on Sunday night (August 28) that she would release her brand new album in October. She promised to "tell you more" at midnight (and, naturally, the whole crowd freaked out).
Swift won the Best Longform Video award, the Best Direction award and the Video of the Year award for "All Too Well" (10 Minute Version) (Taylor's Version). It was during her acceptance speech for the Video of the Year award — the final award of the night — that Swift said she thought it would be a good time to tell everyone that she would debut her next project soon. She revealed that her next album would be available on October 21.
The award-winning artist arrived at the 2022 MTV VMAs, hosted at the Prudential Center in New Jersey, walking the carpet in a stunning crystal mini dress. She turned heads in the dazzling dress and signature red lipstick. Shortly after winning her last MTV VMA award of the night, Swift updated her website and social media channels to read "meet me at midnight," complete with a countdown clock.
Swift revealed on her social media channels at midnight: "Midnights, the stories of 13 sleepless nights scattered throughout my life, will be out October 21. Meet me at midnight." She wrote:
"We lie awake in love and in fear, in turmoil and in tears. We stare at walls and drink until they speak back. We twist in our self-made cages and pray that we aren't — right this minute — about to make some fateful life-altering mistake.
"This is a collection of music written in the middle of the night, a journey through terrors and sweet dreams. The floors we pace and the demons we face. For all of us who have tossed and turned and decided to keep the lanterns lit and go searching — hoping that just maybe, when the clock strikes twelve… we'll meet ourselves.
"Midnights, the stories of 13 sleepless nights scattered throughout my life, will be out October 21. Meet me at midnight."