21 Savage Clarifies His Controversial Statements About Nas
By Tony M. Centeno
November 15, 2022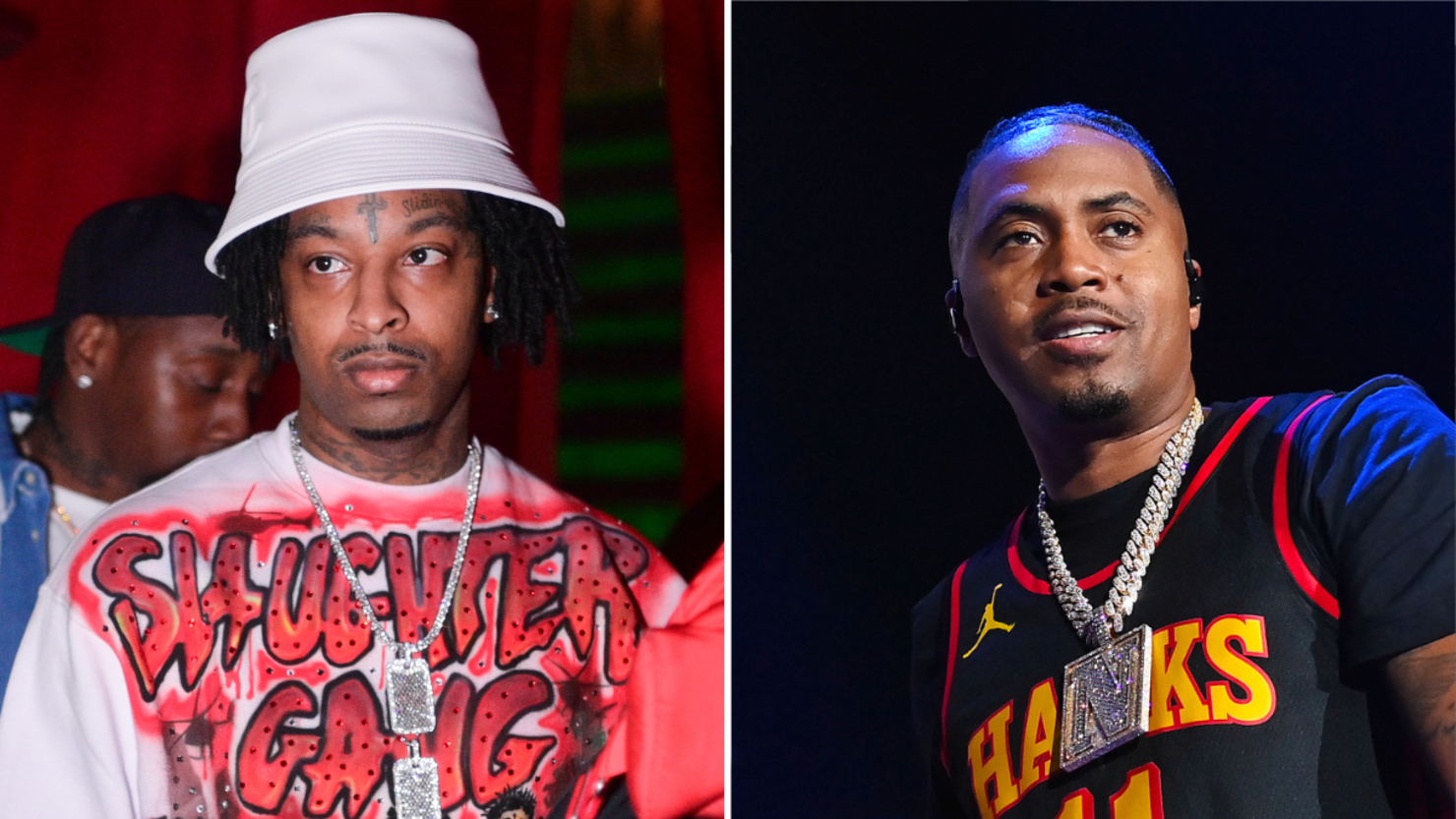 21 Savage's hot take about Nas' legacy rubbed fans the wrong way. Now he's trying to clear up any and all misunderstandings about what he meant.

Within the 24 hours since he made the comments in a Clubhouse room, the Atlanta-based artist witnessed plenty of pushback on his notion about Nas. On Monday, November 14, 21 took to Twitter to respond to all of the backlash he's received since he claimed the Mass Appeal Records co-founder "isn't relevant." The Her Loss rapper reassured the world that he meant no disrespect to the seasoned MC, who just dropped his fourth album in two years last week.

I would never disrespect nas or any legend who paved the way for me y'all be tryna take stuff and run with it 🤦🏾‍♂️

— Saint Laurent Don (@21savage) November 14, 2022
"I would never disrespect nas or any legend who paved the way for me y'all be tryna take stuff and run with it 🤦🏾‍♂️" 21 tweeted.

The Clubhouse conversation happened on Sunday night. 21 entered a room entitled "Is Nas the Greatest Rapper or What?" where he sounded off about his opinions on the Queensbridge native's career.

"What y'all saying, relevant though?" he began. "I don't feel like he's relevant. I just feel like he got fans."
21 Savage said Nas is irrelevant. It's funny because Nas at 49 years old just released 4 better quality albums than his whole discography.

But it's even funnier when 21 Savage is being relevant exclusively thanks to Drake in the last year 💀 pic.twitter.com/ffIdthZ2ti

— Bitch Please (@HipHopEsp_) November 14, 2022
21's comments were met with swift criticism not only from people in the Clubhouse room, but other artists on social media as well. Rappers like Kxng Crooked and Kodak Black came to Nas' defense after the comments went viral. The King's Disease rapper's brother Jungle also chimed in on the controversy in a comment made on The Shade Room's post about the situation.

"21 Savage is trash I'm glad Nas dropped KD3 so fans can hear real bars… 21 can u do something for me," he wrote.

So far, Nas himself hasn't addressed the issue. He's been busy focusing on the release of his new album King's Disease III, which dropped last Friday. See what others had to say about 21's comments below.
I love 21. I love Nas. May we always grow towards truth and freedom. And live outside of the illusions, boxes, -isms, fantasy and false social constraints. There is evolution in conversations & sharing perspective. We are infinite.🌹

— Rapsody (@rapsody) November 15, 2022
Love 21 to death! Like I genuinely fuck with 21 heavy! Lol but he drunk with the Nas comment. Nas will always be relevant

— REASON TDE (@reasonTDE) November 15, 2022
21 saying Nas ain't relevant but has a loyal fan base is funny cus a loyal fanbase feels far more important than being relevant but that's just me.

— Donwill (@donwill) November 14, 2022