Damar Hamlin Completes Evaluations, Discharged From Buffalo Hospital
By Jason Hall
January 11, 2023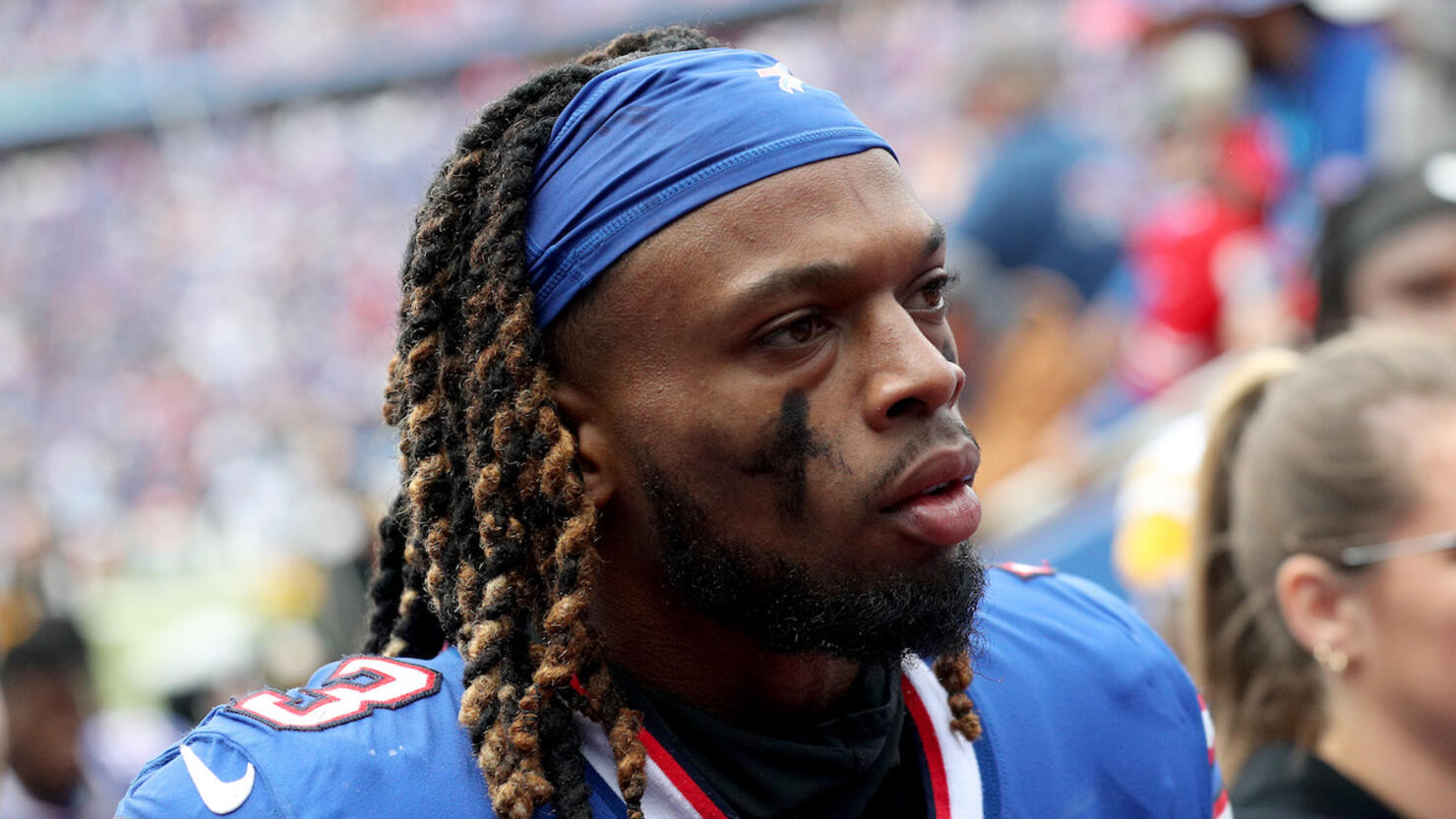 Buffalo Bills safety Damar Hamlin was discharged from a Buffalo hospital after completing a series of tests and evaluations, his critical care physician, Jamie Nadler, MD, announced in a statement shared by the Bills on Wednesday (January 11).
Hamlin was released from the University of Cincinnati Medical Center on Monday (January 9) -- less than one week after suffering cardiac arrest during a now-cancelled Monday Night Football matchup against the Cincinnati Bengals -- and admitted to Buffalo General Medical Center/Gates Vascular Institute upon returning to Buffalo.
"We have completed a series of tests and evaluations, and in consultation with the team physicians, we are confident that Damar can be safely discharged to continue his rehabilitation at home and with the Bills," Nadler said.
Hamlin, 24, tackled Bengals wide receiver Tee Higgins during the first quarter of the January 2 game and got back to his feet before suddenly falling to the ground. A stretcher and ambulance came onto the field and CPR was administered by first responders.
The second-year safety had his breathing tube removed overnight and made contact with players and coaches last Friday (January 6), the Bills announced in a series of updates shared on Twitter.
Per the physicians at UCMC, Damar's breathing tube was removed overnight. He continues to progress remarkably in his recovery.

His neurologic function remains intact and he has been able to talk to his family and care team.

— Buffalo Bills (@BuffaloBills) January 6, 2023
Hamlin also shared several social media posts over the weekend, which included his first addressing the situation, as well as a photo of himself from his hospital bed showing support for the Bills ahead of their game against the New England Patriots on Sunday (January 8).
"When you put real love out into the world it comes back to you 3x's as much..," Hamlin wrote on his verified Instagram account. "The Love has been overwhelming, but I'm thankful for every single person that prayed for me and reached out. We brung the world back together behind this. If you know me you know this only gone make me stronger. On a long road keep praying for me!"