NFL Team Set For In-Person Meeting With Aaron Rodgers: Report
By Jason Hall
March 7, 2023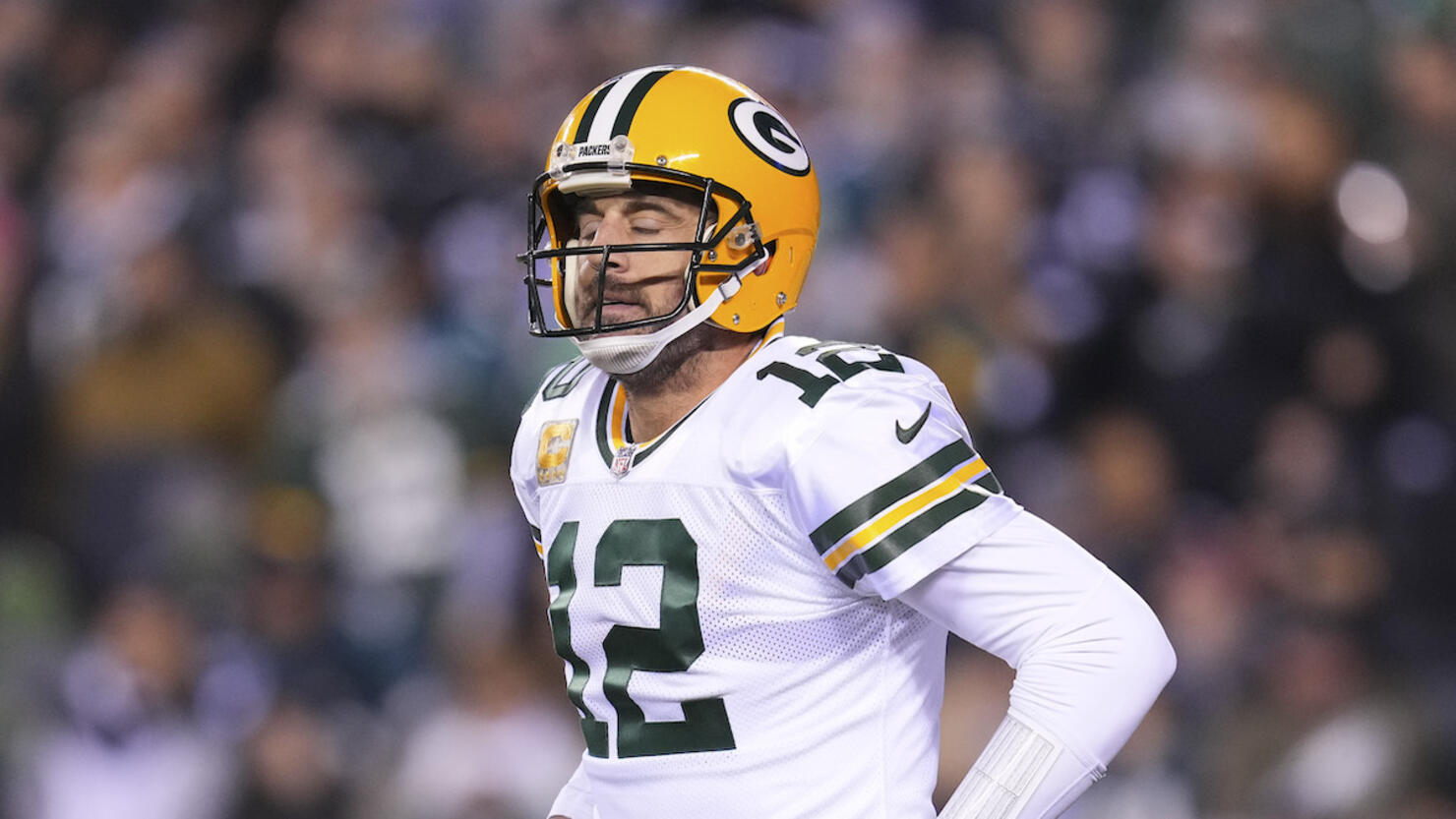 The New York Jets are reportedly set to have an in-person meeting with Green Bay Packers Aaron Rodgers on Tuesday (March 7) amid reports that they've already had conversations regarding a potential trade, sources with knowledge of the situation told ESPN's Rob Demovsky and Dan Graziano.
"Sources tell @DanGrazianoESPN and me that a contingent of Jets team officials are scheduled to fly out today to meet in person with Aaron Rodgers," Demovsky tweeted.
The update comes hours after Graziano had reported that conversations between the two sides were expected continue on Tuesday. New York would've had to have been granted the Packers' permission to speak with Rodgers directly as he's still under contract and have also reportedly discussed a trade with Green Bay.
Additionally, Rodgers' contract could complicate a deal as both teams would need to be in compliance with the salary cap prior to the beginning of the new league year next Wednesday (March 15).
Last week, Rodgers broke his darkness retreat silence and said he plans to make a decision on his NFL future "soon enough." The quarterback appeared on the Aubrey Marcus Podcast and compared his situation to his predecessor Brett Favre, who announced his retirement in 2008 before deciding to continue his NFL career and eventually being traded by the Packers to the Jets, who have long been among the favorites to land Rodgers should he demand a trade away from Green Bay prior to Graziano's report.
"It's best for anybody who has an interest in this to make a decision sooner rather than later," Rodgers said via GoLongTD.com founder Tyler Dunne. "I remember before [Brett] Favre retired, there were times in April and May, we weren't sure if he was going to come back because he didn't come to any of the offseason program. Then in 2008, he actually did retire in March and then said, 'No, no, no,' in June after OTAs, I actually want to come back and play. That's when he was traded to the Jets. There was obviously a lot of tension that summer. For everybody involved directly and indirectly, it's best for a decision earlier.
"I feel really good about the conversations that are going to be had, that have been had with important people in my life. Yourself included. But I'm not looking for somebody to tell me what the answer is. All the answers are right inside me. I touched many of the feeling on both sides in the darkness. I'm thankful for that time.
"There's a finality to the decision. I don't make it lightly. I don't want to drag anybody around. I'm answering questions about it because I got asked about it. I'm talking about it because it's important to me. If you don't like it and you think it's drama, and you think I'm being a diva or whatever, then just tune it out. That's fine. But this is my life. It's important to me. I'lI make a decision soon enough and we'll go down that road. I'll be really excited about it."
Gutekunst wants a resolution with Rodgers situation before free agency starts on March 15.

Rodgers' contract will be restructured if he returns, Gutekunst said.

Gutekunst added he's "absolutely" comfortable if Jordan Love is QB1 to start the 2023 season.

— Matt Schneidman (@mattschneidman) February 28, 2023
"It sounds like there's already conversations going on that aren't involving me, which is interesting...I'm not a part of those conversations right now," Rodgers said. "When I make up my mind one way or another then you guys and the Packers, not in that order, and everyone else will know at some point."
On February 9, Packers president Mark Murphy told ESPN's Dianna Russini that the team expects quarterback Aaron Rodgers to make a decision about his NFL future "around [the] free agency [period]."
"There hasn't been a deadline," Murphy said. "We've both realized that the sooner the decision is made, the better. I know Brian Gutekunst, our GM, has been in regular contact with him and I think Aaron has expressed that he doesn't want to drag it out."
#Packers President Mark Murphy on Rodgers.
"There hasn't been a deadline. The sooner the decision is made, the better. Gutekunst has been in contact with him. Aaron has expressed that he doesn't want to drag it.
You're hoping maybe by the start of March?
Yes around free agency. pic.twitter.com/kJwIcsHD2p

— Dianna Russini (@diannaESPN) February 10, 2023
The Packers are also reportedly committed to finding a trade partner and had "their next plan ready to go" should Rodgers request a trade, according to NFL Network's Tom Pelissero.
Last month, ESPN's Adam Schefter reported that the New York Jets were "a very real scenario" in a possible trade for Rodgers prior to the team hiring offensive coordinator Nathaniel Hackett, who had previously coached the quarterback for three seasons from 2019 to 2021, which included Rodgers leading the NFL's top scoring offense during the first of two consecutive Associated Press Most Valuable Player award-winning seasons in 2020.
Rodgers signed a three-year, $150 million extension with the Packers last offseason amid previous reports of being disgruntled with the franchise. The 39-year-old was coming off back-to-back MVP seasons ahead of the 2022 NFL season, which resulted in Green Bay missing the playoffs after clinching a postseason berth during the previous three consecutive seasons and 11 of the past 13 years.