Former Pro Bowl WR Adam Thielen Finalizing Free Agent Deal: Report
By Jason Hall
March 19, 2023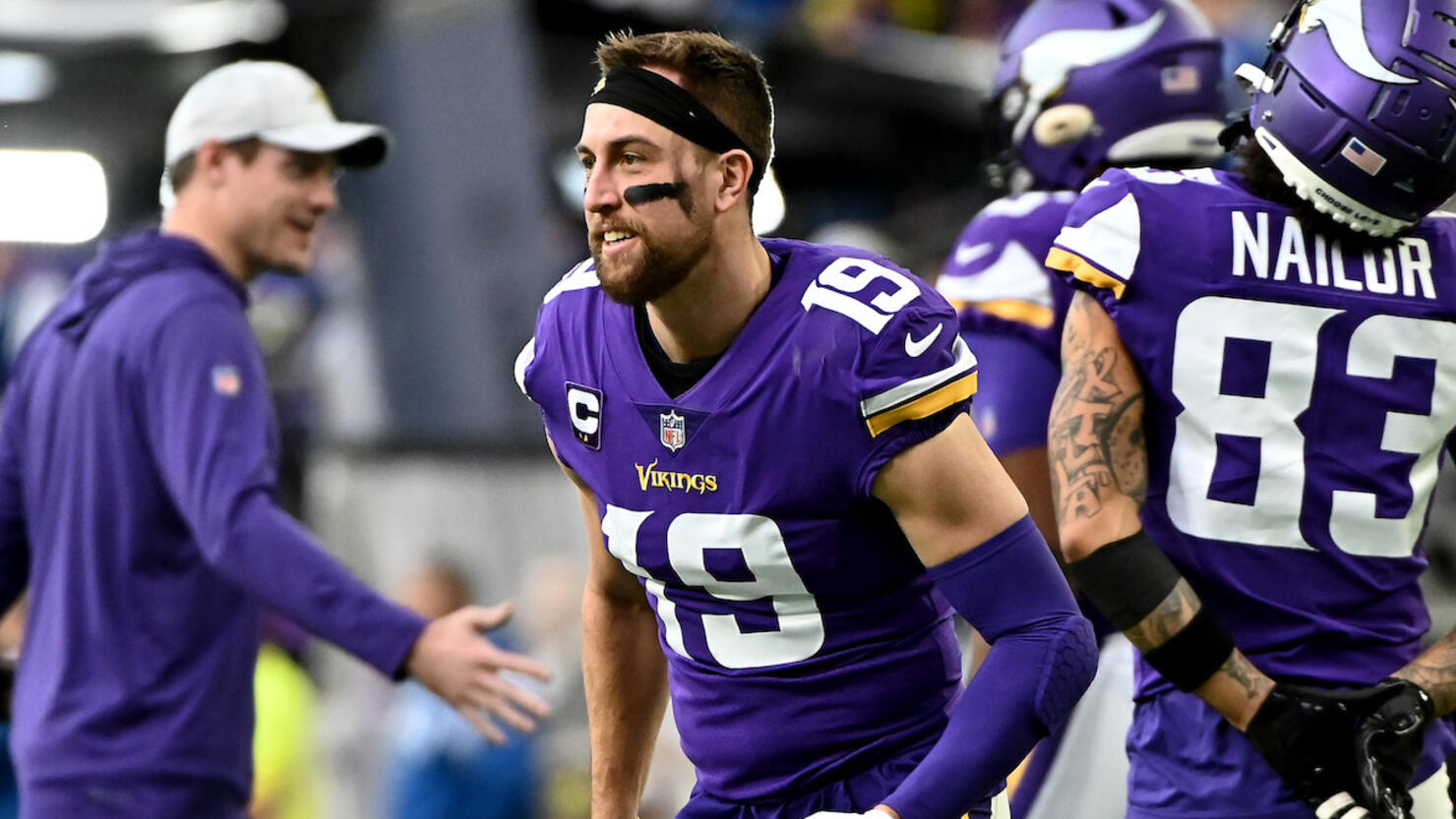 Former Minnesota Vikings wide receiver Adam Thielen is reportedly "finalizing a three-year deal" with the Carolina Panthers, media personality and former NFL punter Pat McAfee reported, citing his "source(s)."
"BREAKING NEWS According to my source(s), @athielen19 is signing with the Carolina Panthers. The 3 time Pro Bowler has agreed to a 3 year deal. The 32 year old feels GREAT.. according to my source(s)," McAfee tweeted.
Thielen shared multiple posts on social media seemingly confirming the move, which included a gif of the Panthers' mascot dancing as a quote-tweet to McAfee's report.
Thielen, 32, a Minnesota native who played collegiately at Minnesota State, was released by the Vikings after 10 seasons with the franchise earlier this month.
"Minnesota on Friday terminated the contract of the receiver who climbed his way up from an unheralded and undrafted free agent to the franchise leaderboard in multiple categories," Vikings.com senior editor Craig Peters wrote on March 10.
Thielen ranks third among all Vikings players in career receptions (534) and receiving touchdowns (55), as well as fourth in receiving yards (6,682). The former Minnesota State standout emerged as a starter in 2016 in the absence of former Minnesota receiver Stefon Diggs, who was sidelined with a groin injury at the time. The Detroit Lakes native had 69 receptions for 967 yards and five touchdowns while starting 10 games for the Vikings in 2016, before recording 1,000 yards and more than 90 receptions during each of the next two seasons, playing alongside Diggs as one of the league's best receiving duos.
Thielen recorded 70 receptions for 716 yards a six touchdowns in 2022, starting all 17 games for the Vikings after having his season ended prematurely in 2021 due to an ankle injury. The Panthers acquired the No. 1 pick in a blockbuster trade with the Chicago Bears earlier this month and are expected to draft a quarterback.
Thielen provides a veteran presence at the wide receiver position, which will be necessary for a young quarterback taking over as a starter, especially in the absence of leading receiver D.J. Moore, who was included in the trade package with Chicago.