DeAndre Hopkins Shares Cryptic Tweet Amid Free Agency
By Jason Hall
May 31, 2023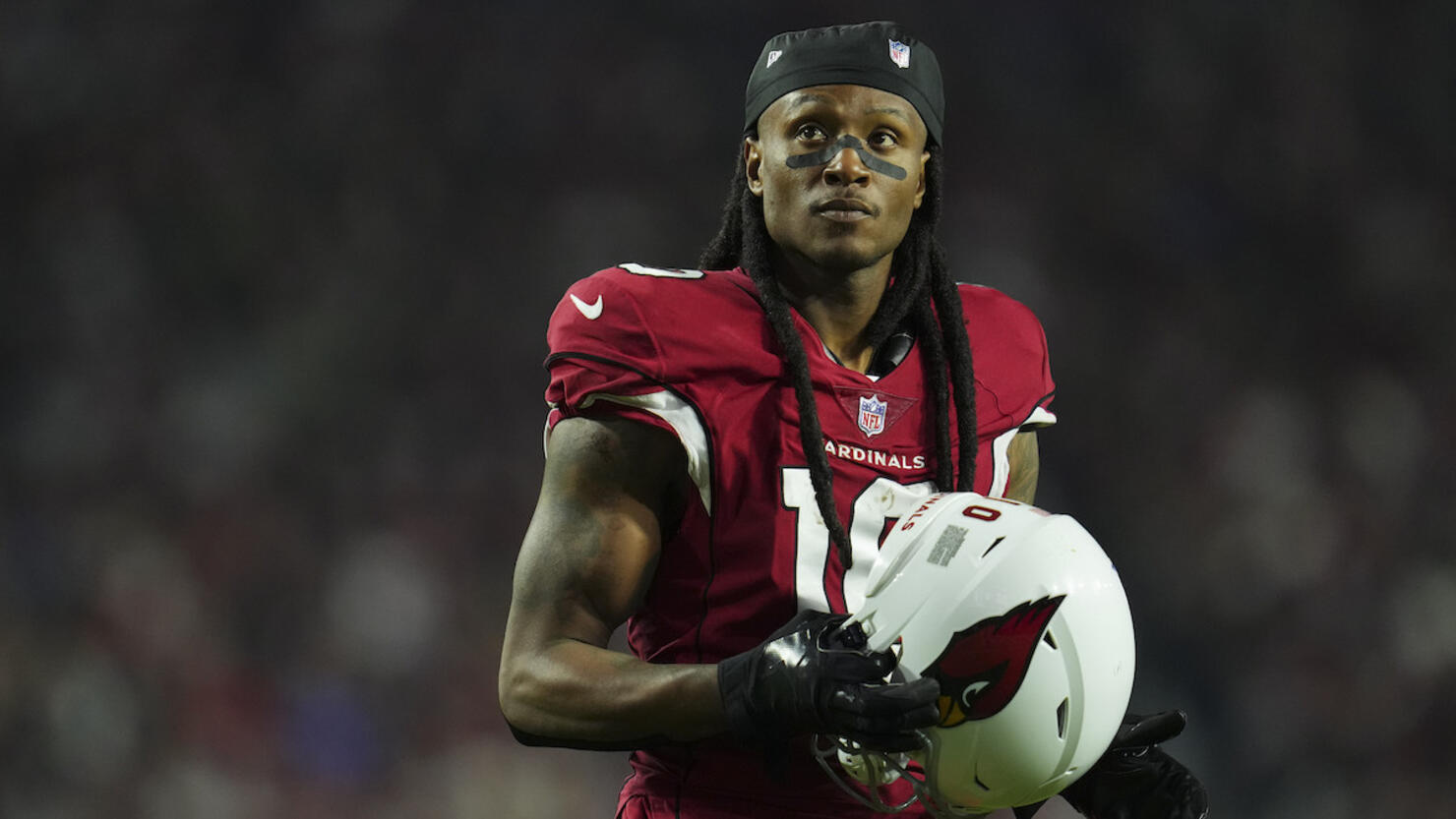 Former All-Pro wide receiver DeAndre Hopkins shared a cryptic tweet Wednesday (March 31) afternoon, hours after officially becoming a free agent on Tuesday (March 30).
Hopkins tweeted three emojis showing a monkey with its hands over its ears, mouth and eyes, which has long been associated with the phrase, "hear nothing, say nothing, see nothing." The post was shared 23 hours after the receiver's release from the Arizona Cardinals was officially processed by the NFL, allowing him to sign with a new team immediately.
The post also came after reports that the Buffalo Bills and Kansas City Chiefs were reportedly the expected favorites to sign Hopkins, according to ESPN's Jeremy Fowler.
Fowler, who appeared on First Take Monday (May 29), described the two teams' pursuit of Hopkins as an "arms race," though acknowledged that neither franchise is "overly concerned" about landing the former All-Pro receiver, as it would be more of a luxury move than addressing a position need. Hopkins would also likely be prioritizing playing with one of the league's best quarterbacks in either Josh Allen or Patrick Mahomes, rather than take the most money offered, in a scenario in which he signs with Buffalo or Kansas City.
Hopkins, 30, was released by the Arizona Cardinals last Friday (May 26) amid an offseason of uncertainty.
"We have released DeAndre Hopkins," the Cardinals tweeted at the time.
The Cardinals will reportedly take on "the entire $22.6 million dead cap hit" brought on by Hopkins' contract this season as the release didn't take place after June 1, NFL Network's Ian Rapoport reported. Hopkins standout appeared on the I AM ATHLETE podcast posted on May 22 and addressed his absence from the Cardinals' mini camp session amid reports of uncertainty with the franchise.
"What I want is stable management upstairs," Hopkins said (h/t NFL.com). "I think that's something that I haven't really had the past couple years of my career coming from Houston to being in Arizona; I've been through three to four GMs in my career. … A QB who loves the game, a QB who brings everybody on board with him, pushes not just himself but people around him. I don't need a great QB -- I've done it with subpar QBs -- just a QB who loves the game like I do. And a great defense. I think defense wins championships.
"For me, that's it: great management, a QB who loves the game and a great defense."
Hopkins, who was acquired by the Cardinals in a trade with the Houston Texans in 2020, is a three-time first-team All-Pro, two-time second-team All-Pro, five-time Pro Bowl selection and led the NFL in receiving touchdowns in 2017. The former Clemson standout recorded 853 receptions for 11,298 yards and 71 touchdowns during his first nine NFL seasons.