Aaron Rodgers Reveals Early Timetable For Return From Achilles Injury
By Jason Hall
November 13, 2023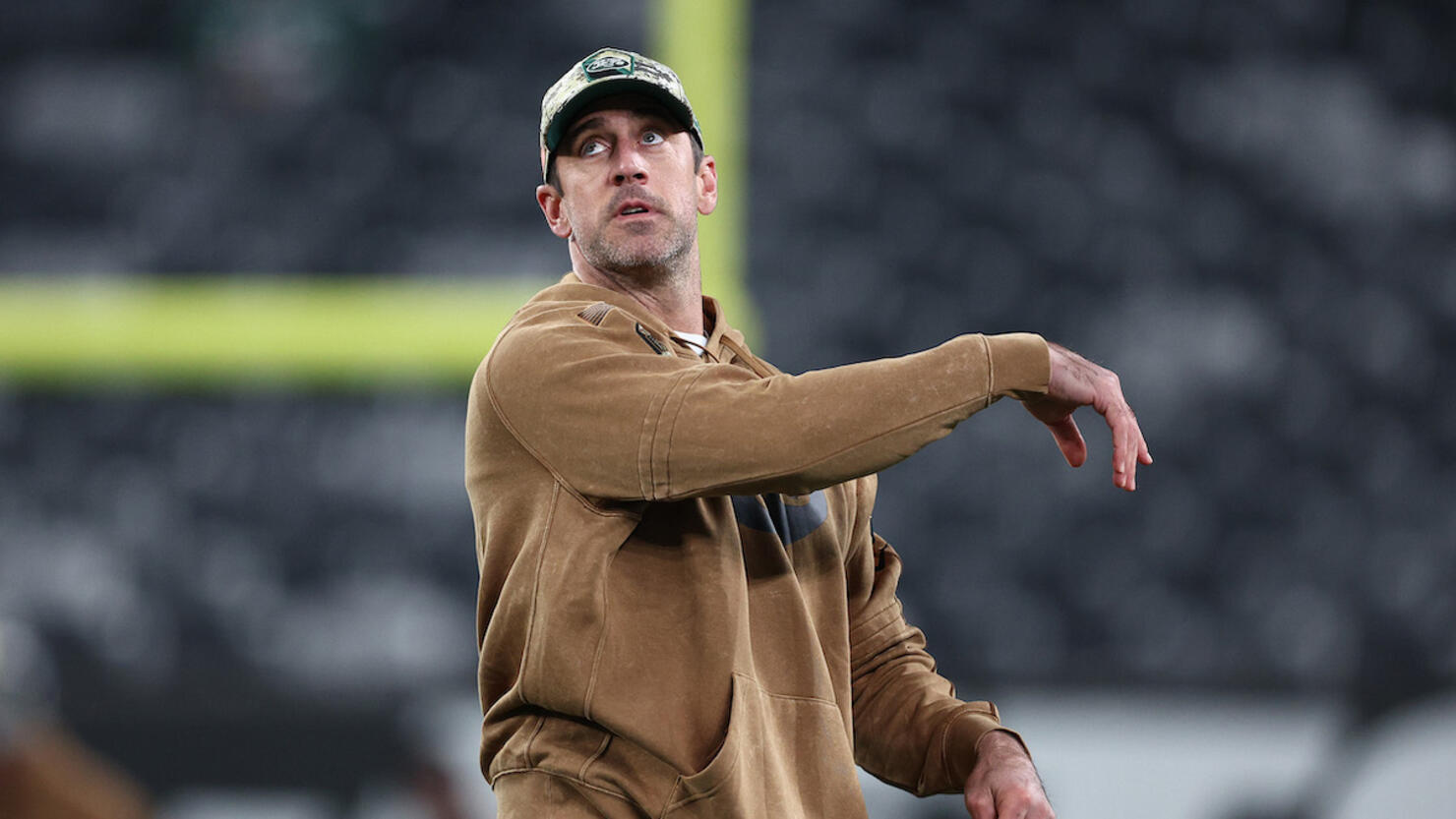 New York Jets quarterback Aaron Rodgers is aiming to return before season's end.
Rodgers said he's aiming for a mid-December return while speaking to NBC Sports' Melissa Stark during the Jets' 'Sunday Night Football' loss to the Las Vegas Raiders in Week 11.
"He said, 'I know it sounds insane, but you do a good surgery, you have a good patient, it makes this possible,'" Stark said on the telecast via NBC News, noting that Rodgers said he "just wasn't feeling it" when he decided not to throw passes during pregame warmups, as he'd done in the past few weeks.
Rodgers said he's been working on a weight-limiting treadmill during his rehabilitation which included jogging at 50% of his body weight and intends to increase it to 75% this week. Jets head coach Robert Saleh said, "if the doctors clear him, we'll clear him," when asked about Rodgers' status during his postgame press conference.
Rodgers had previously told Stark that "his goal is to play again this season" during the Jets' loss to the Kansas City Chiefs in October. Last week, Rodgers admitted that telling Los Angeles Chargers safety Derwin James Jr. that he would be back in "a few weeks" is' "probably not anywhere near a realistic timeline."
"It'd be nice to be able to get back in a couple weeks," Rodgers said during his weekly appearance on 'the Pat McAfee Show' last Tuesday (November 7). "That's probably not anywhere near a realistic timeline. … It's more of a phrase that didn't have a specific timetable."
A clip shared by ESPN's Adam Schefter hours before his appearance on McAfee's show showed Rodgers embracing James after the Jets' 27-6 loss to the Chargers last Monday (November 6) night and saying he was "a few weeks" away from playing again, despite the projected season-ending injury, when James asked about his recovery.
"Chargers' safety Derwin James asked Aaron Rodgers, postgame last night, 'When you coming back?' Rodgers responded, 'A few weeks,'" Schefter wrote on his X account.
Rodgers was seen dropping back and throwing passes before last Monday's game, less than two months after undergoing Achilles surgery.
Rodgers was carted off the field during the Jets' season opener, months after being acquired in a blockbuster trade with the Green Bay Packers, with whom the quarterback had spent the entirety of his 18-year NFL career. The 39-year-old leads all Packers quarterbacks with 475 touchdowns and ranks second in franchise history behind only Favre in QB wins (147), completions (5,001) and passing yards (7,660).