Cardi B Deletes Her Instagram Account After Azealia Banks' Insults
By James Dinh
May 12, 2018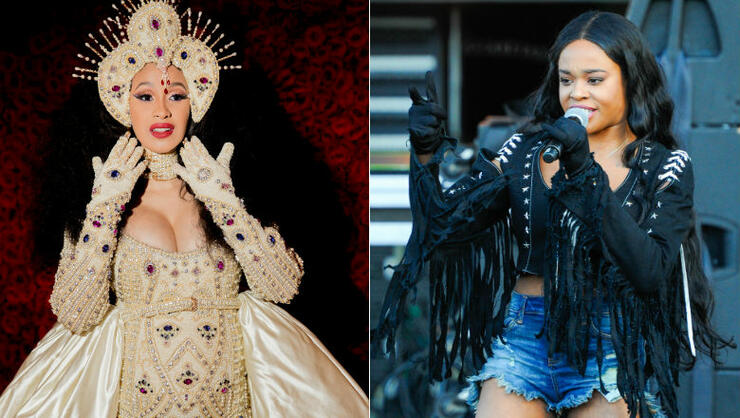 After Azealia Banks' Breakfast Club interview, Cardi B doesn't want anything to do with the rapper (or the rest of the drama that sometimes comes with Instagram connectivity), so the hip-hop titan decided to delete her account.
In case you missed out, Banks' recent interview with the morning show saw her reignite the pair's longtime feud and hear her argue that the former Love & Hip Hop star has digressed progress for black women. "Two years ago, the conversation surrounding black women's culture was really reaching an all-time high," she said in reference to Beyoncé's Lemonade. "There was just this really, really, really intelligent conversation going on nationally and then everything just kind of changed and then it was like Cardi B.
"I'm just talking about this caricature of a black woman that black women themselves would never be able to get away with," she continued. "Like, if my spelling and grammar was that bad, I'd be canceled. If Nicki Minaj spelled like that, we would be ragging on her all day." Scroll on below to see Banks' interview in full.
Once Bardi got wind of the comments, things escalated quite fast, with the rapper responding to the comments and then deleting her account entirely. In addition to deleting her account, the 25-year-old star went one step further and made her Twitter unavailable to the public.
"I'm from the hood. I speak how I speak I am how I am. I did not choose to be famous people choose me! People followed me on Instagram and the people gave me a platform to introduce my talent," Cardi wrote in a lengthy clapback, which has since been deleted along with her account. "I never asked to be a example or a role model I don't want to change my ways because I'm famous that's why I just mind my business. This is coming from a woman that bleached her skin but want to advocate. GOODBYE. Im not apologizing or kill myself because of who I am."