Jennifer Lopez To Drop Cardi B & DJ Khaled-Featured 'Dinero' Next Week
By Hayden Brooks
May 12, 2018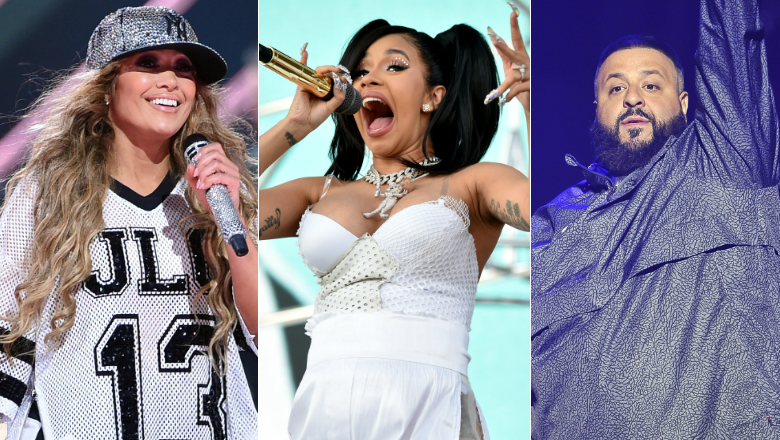 Jennifer Lopez is hopping on the Cardi B train as she is set to drop her mega-collaboration with the star and DJ Khaled called "Dinero," and she's not so coincidentally also performing at the 2018 Billboard Music Awards.
On Wednesday (May 9), La Lopez took to The Tonight Show Starring Jimmy Fallon to break the news. "It means money," J. Lo said of the track. "[It's] an English song. It just the hook happens to be in Spanish... just the word." In mid-April, the trio came together to shoot the video and it's set to hit "cinematic" territory, as per Lopez. "It has those themes. I was just trying to connect it to the song where it's just not the typical reggaeton, bachata, hip-hop video that everybody does all the time," she previously said of the clip. Khaled also previously echoed the sentiments, adding that "the video idea is gonna make the record even more crazier."
Originally due at the beginning of the year, the track hears Lopez demand good ol' cash, incorporates some Spanish into the mix and was previewed at Calibash 2018 in January.
Lopez will join the long-running list of performers for the BBMAs, which includes Icon Award recipient Janet Jackson, Ariana Grande, Kelly Clarkson, BTS, Camila Cabello, Dua Lipa, and Shawn Mendes. Keep your eyes peeled for more on the 2018 BBMA, which will be hosted by Clarkson live from the MGM Grand Garden Arena in Las Vegas on Sunday, May 20, at 8 PM ET / 5 PM PT on NBC.
Chat About Jennifer Lopez To Drop Cardi B & DJ Khaled-Featured 'Dinero' Next Week