Dave Mustaine Says Lars Ulrich Is Scared of Performing Alongside Megadeth
By Andrew Magnotta
June 11, 2018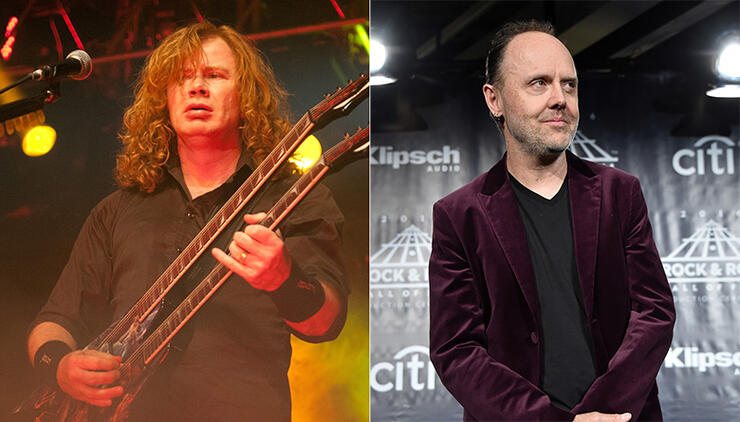 Megadeth's Dave Mustaine hasn't often held back regarding his greatest heavy metal nemesis, Metallica drummer Lars Ulrich.
While Mustaine's denouncements of the band that fired him more than 35 years ago have become less frequent in recent years, the guitarist still isn't letting the feud die. He added even more fuel to the hard-feelings furnace this week, calling out Ulrich for allegedly holding up another round of Big Four shows.
Mustaine had said previously that the only reason the Big Four of thrash metal (Metallica, Slayer, Megadeth and Anthrax) haven't announced another show before Slayer retires is because of Ulrich's reluctance.
"It's not about the Big Four," Mustaine said in a new interview with Rock Hard. "I believe Lars is afraid to play with Megadeth."
Mustaine continued, saying Metallica frontman James Hetfield is, in turn, "afraid" to call out Ulrich.
Mustaine says he's positive that Anthrax and Slayer would make another Big Four show happen, no matter what it would take. But Metallica won't sign on because Ulrich doesn't want to do it.
"Everybody on the planet knows that's up to Lars Ulrich because Lars runs Metallica and they are the ones that are in control of this, which doesn't seem fair since the moniker suggests that we're equal," Mustaine told William Glanz of SoundExchange this past April.
The band's aren't equal, however. While Megadeth, Slayer and Anthrax have all achieved incredible success in the metal genre, none has maintained the peak mainstream approval Metallica has maintained over the past 25 or so years. While there might be some argument about which Big Four band opens the show, Metallica is the unquestionable headliner. Metallica is not only one of the biggest stadium draws in rock music, but in live music in general.
Ulrich has said that he's not truly certain why Metallica has been able to stand out. But he has a theory.
"Obviously, all these bands are friends of ours, peers of ours, and I have a tremendous amount of respect and love for each one of those bands," Ulrich said at a marketing seminar in March. "But, I guess, we've always felt in Metallica that we were autonomous and that we were in our own world and that we were misfits and that we never felt like we were part of a scene. So we really only ever charted our own course, as they say."
It's that belief that Metallica transcends its thrash metal roots that seems to irk Mustaine so much.
"...[My] guys are dedicated enough to the metal community that if there was a Big Four show... we would do it," Mustaine continued, "even if there was a prior commitment, because I think everybody would understand these are momentous concerts."
Mustaine compared previous Big Four shows to Woodstock for metal fans.
Mustaine and Ulrich have sparred over songwriting credits for years.
Most recently, Metallica had hoped to reissue an expanded version of the band's 1982 demo No Life 'Til Leather, but the set never got released. Mustaine says it's he who has held up the project. He says Ulrich demanded songwriting credits that didn't belong to him. Mustaine says he'll never give up his credits.
"I wrote all of 'Mechanix' and 'Jump In The Fire' and I won't give anything to Lars Ulrich. He can give it up. With 'Phantom Lord' I wrote all the music and James Hetfield did all the lyrics – 50/50. If James wants to give his share to Lars because he's scared of him, that's up to him. I'm not afraid of Lars Ulrich and I won't give him my share."
It's possible the tech-metal innovator Mustaine is so keen on doing another Big Four show because he didn't much enjoy the first one.
Mustaine revealed in December that he delayed neck surgery to get to the famous Big Four at Yankee Stadium show. He recalled the severe pain he was in and the health risk he took on in order to perform.
"I had tape all over the stage that said, 'Don't headbang,'" Mustaine told Hatebreed frontman Jamey Jasta on The Jasta Show podcast last December. "I would have died if I head-banged that night because I was in an emergency surgery room two days before."
Photo: Getty Images
Chat About Dave Mustaine Says Lars Ulrich Is Scared of Performing Alongside Megadeth