Led Zeppelin Teases 50th Anniversary Book by Surviving Band Members
By Andrew Magnotta
August 27, 2018
A book of photos curated by surviving Led Zeppelin band members Robert Plant, John Paul Jones and Jimmy Page is due out this October for the iconic band's 50th anniversary.
Led Zeppelin by Led Zeppelin is a 400-page hardcover book of rare and never-before-seen photos and artwork from the band's Rock and Roll Hall of Fame history.
A teaser video published Sunday on the band's official YouTube account, gives fans a peek at some of the images in the book. The trailer is cleverly set to the song "Good Times Bad Times" from the band's 1969 debut.
As the teaser plays, text of quotes by the band members flash across the screen.
""It was going to be a good group," read a quote from late-drummer John Bonham. "Not to be flash about it...but I am."
Watch the entire promo above.
News broke earlier this summer that Page, Plant and Jones were together in London holding "secret talks" to reunite their legendary band. That same report said there would be a special Led Zeppelin event in October.
The band may just have been working on the book of photos or helping to generate additional content for the 50th anniversary in September. An event in October could simply be a launch even for Led Zeppelin by Led Zeppelin.
Plant said last winter that "a cork will pop" on the band's anniversary, though it's unclear if he was suggested that he'd be among those celebrating.
Many Zeppelin fans and scholars don't expect the band to perform ever again. While Plant is widely considered to be the lone holdout, Page and Jones do drastically fewer interviews these days than the singer, so it's harder to gauge their feelings on the subject.
Page said as recently as February that he thinks the "time has gone" for another reunion.
Plant has been clear over the years about his pride in and love for the Zeppelin catalog, but he also expressed regret about doing the band's 2007 Celebration Day reunion, saying it gave fans false hope about a larger scale reunion tour.
The singer has maintained that he believes the true Led Zeppelin died along with Bonham in 1980.
Thumbnail Photo: Getty Images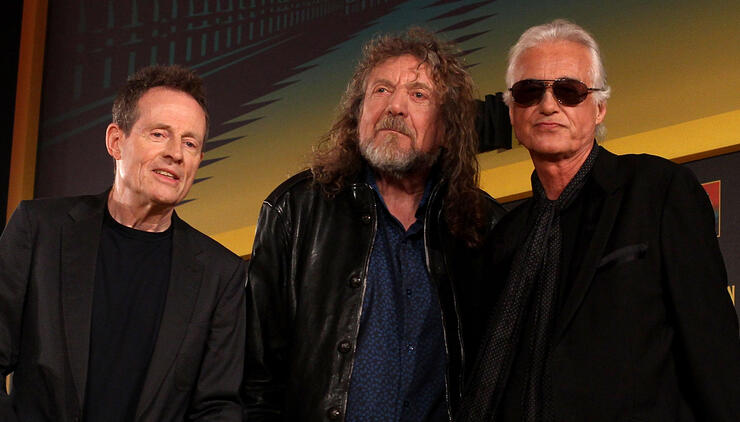 Chat About Led Zeppelin Teases 50th Anniversary Book by Surviving Band Members