Smashing Pumpkins Plan to Release 'Machina' Albums as a Box Set
By Katrina Nattress
September 12, 2018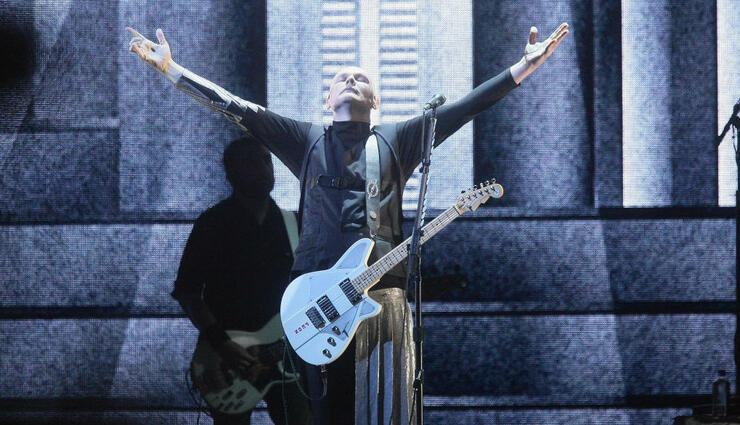 Diehard Smashing Pumpkins fans, prepare to get stoked.
During a recent Instagram Live fan Q&A session, frontman Billy Corgan broke the news that the band plans on reissuing Machina/The Machines Of God and Machina II/The Friends & Enemies Of Modern Music the way they were intended to be released from the get go: together.
When asked if the Pumpkins would ever release another box set, Corgan's answer said it all: "Machina box is next."
Another fan asked, "With all the talk of the Machina reissue will there be a MII reissue as well or will it be one huge reissue?"
"The albums will be released together as originally conceived," the singer/guitarist responded before adding that Machina II was "unfinished" when it originally came out, and that it would soon be on streaming services.
The two albums came out seven months apart back in 2000. The band wanted to release the records together, but their label at the time, Virgin Records, refused the idea after 1998's Adore didn't sell as well as expected. Only 25 copies of Machina II were pressed, with those in its possession encouraged to share it for free online.
The reissue was first discussed in 2011, with the Machina box set slated to be part of the Smashing Pumpkins' plan to release remastered versions of their back catalog in 2013, but that never came to fruition.
The band is currently on a reunion tour (with the exception of D'Arcy Wretzky) where they're only playing back catalog material. So far, the Shiny and Oh So Bright Tour has lived up to its hype, though some fans couldn't quite keep their eyes open for the whole three-hour long show.
Photo: Getty Images
Chat About Smashing Pumpkins Plan to Release 'Machina' Albums as a Box Set