Dave Grohl Has Some Good News for Nirvana Fans
By Andrew Magnotta
October 17, 2018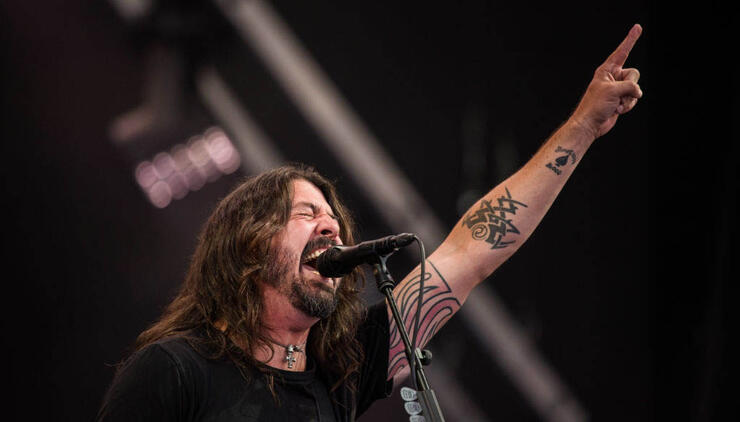 Fans wondering/hoping Dave Grohl, Krist Novoselic and Pat Smear will perform Nirvana tunes a bit more often nowadays are in for some good news.
Everyone involved had a blast this most recent time around.
Grohl tells Kerrang! in a new interview that from the first rehearsal for the Cal Jam 18 set earlier this month to the last note of the October 6 performance, it all felt right.
"When Pat, Krist and I sat down to go through those songs in a small rehearsal room with concrete walls, it f***in' sounded like Nirvana," Grohl said. "It was like being shot into outer space. Being able to play that drum fill and break into the chorus ... it's spiritual, physical, emotional."
Despite playing together in the Foo Fighters since 2005 or so, Grohl and Smear avoided Nirvana songs during their live shows, which usually include several classic rock covers.
Novoselic has played music sparingly since the '90s, returning to the stage for Nirvana's Rock and Roll Hall of Fame induction festivities in 2014 and somewhat recently starting a new band, Giants in the Trees.
Since 2014, Grohl, Novoselic and Smear (a live member of Nirvana form '93 - '94) hadn't performed together until early-September when Novoselic grabbed his bass and collaborated with the Foo Fighters in Seattle for a cover of The Vaselines' "Molly's Lips."
Clearly, the three wanted more ... and so did the fans, despite what a handful of trolls will tell you.
"We would look at each other and smile, but the emotions would kind of go in waves because there was someone missing — and you wish that you could still share those songs with Kurt," Grohl added.
For the "reunion" set, Grohl, Novoselic and Smear were accompanied on vocals by Deer Tick front man John McCauley and punk legend Joan Jett for three songs a piece.
"It was odd, but it felt like a real treat," Novoselic recalled. "I caught myself beaming away during 'Teen Spirit.' I couldn't quite believe I was playing it again, and I will cherish that moment for a long time because it was pretty special."
Photo: Getty Images
Chat About Dave Grohl Has Some Good News for Nirvana Fans