Vinnie Vincent Appears in KISS Makeup at Fan Expo
By Andrew Magnotta
October 30, 2018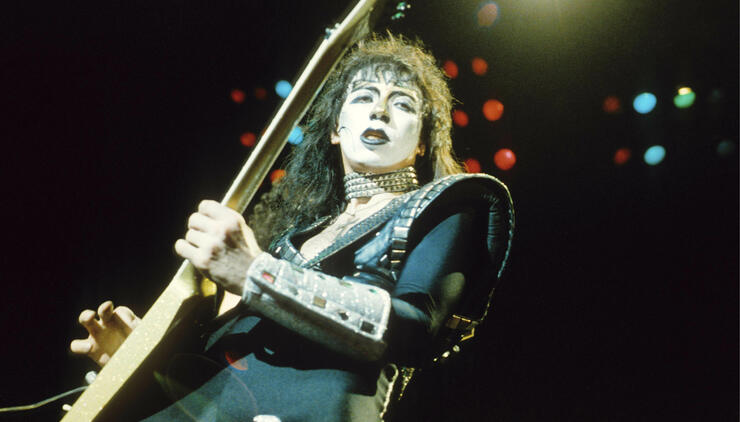 Vinnie Vincent is not carrying on his revamped career like someone who is not trying to get sued.
The ex-KISS collaborator and guitarist drew the ire of his former bosses Paul Stanley and Gene Simmons earlier this summer when he applied to trademark "Vinnie Vincent's KISS" for live performances and merchandising.
The guitarist appears serious about reminding fans of his Kiss history.
Just this past weekend, Vincent appeared at the Chiller Theatre Toy, Model and Film Expo in New Jersey in the makeup that closely resembled the Ankh Warrior garb he wore during his brief tenure in KISS from 1982 - 1984.
Vincent and drummer Eric Carr were the only non-original members of Kiss to have their own stage personas. Carr, who joined in 1980, was the Fox until the band unmasked in 1983 for its Lick It Up album.
While the Ankh Warrior and the Fox were supposedly never trademarked by Kiss — and while Vincent's Chiller Expo look is not precisely the Ankh makeup — you'd think Vincent might be a little more careful.
Vincent and Kiss have a lengthy history of litigation, with Simmons once saying Vincent had sued the band no less than 15 times for unpaid royalties and the like — and lost over and over again.
But while Simmons was content to make amends with Vincent this past winter, Stanley is said to particularly loathe Vincent. Stanley claims to have resisted Vincent's contributions to the band from the beginning of their relationship, which began in the late-'70s when Vincent was a recording studio substitute for Ace Frehley.
Simmons suggested this summer that Vincent may be trying to sabotage himself by poking the Kiss bear.
"There's something called the classic failure mechanism, which I was told by doctors and everything — I'm not saying he is one," Simmons said when asked about the "Vinnie Vincent's Kiss" trademark application. "But there are people who simply cannot handle when things are starting to go their way — success — so they torpedo it by making stupid decisions to make sure they don't succeed, so they can deal with that."
Vincent has announced plans return to performing live this fall after almost 30 years off stage. He has promised fans at several events this year that he will tour again starting next year.
Photo: Getty Images
Chat About Vinnie Vincent Appears in KISS Makeup at Fan Expo