Joe Perry Is Pretty Sure He Partied With Donald Trump in the '70s
By Andrew Magnotta
November 8, 2018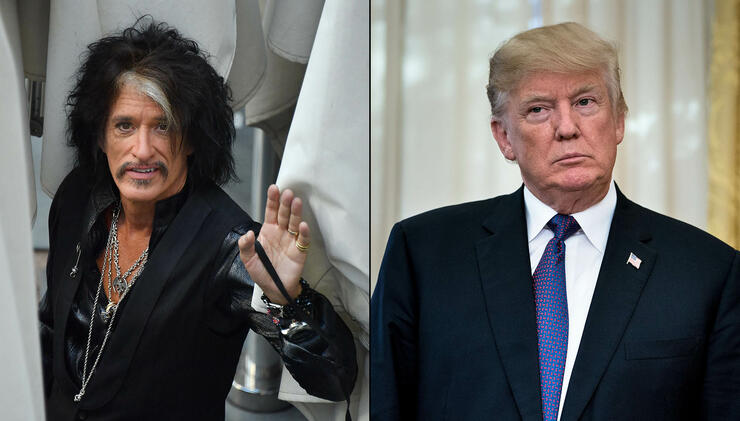 While Aerosmith's Joe Perry isn't sure who his craziest drinking buddy was back in his hard-partying heyday, but one of his more intriguing anecdotes of those days comes from a time he doesn't remember.
"A lot of it's a haze," Perry told Eddie Trunk in a recent sit-down at the Rainbow Bar and Grill in Los Angeles. But thanks to an old photo he recently discovered in Sony Music's archives, Perry thinks he might have imbibed with the President of the United States back in the '70s.
That to the guitarist is crazier than any night out with Steven Tyler.
"I was going through all the stuff, looking for stuff, for content, for certain things, maybe for the ... Vegas show," Perry said. "We were looking at some of the outtakes from some of the parties. I know that Columbia threw a party for us after our first Madison Square Garden sellout. It was a party and Steven is standing there with Linda Blair and I forget who the president of the label was. It was a picture of them. Right off to the side with a beer in his hand, chatting up some young girl was this kind of blond-looking guy with a loose tie, just looking kinda natural. I swear it's Donald Trump."
Perry recalled his shock at finding the photo. But he's certain it's no mere lookalike. Except for Perry's suggestion that Trump was holding a beer (the President says he's never drank alcohol), the story seems plausible.
Trump is a big fan of rock and roll, and his campaign routinely draws the ire of artists for playing their music at events without permission. In fact, Aerosmith is one of several artists who have reported sending Trump cease-and-desist notices for the transgression.
"Looking at everybody in the picture and in the background, I swear [it's him]," Perry continued. "We looked up on the computer pictures of him from that era, you know, like '75, '76, '77, and it looks just like him. I'm just dying to show him that picture and say, 'Is that you?' Someday."
He emphasized that the photo doesn't show anything potentially incriminating about our current POTUS.
"[He was] Just kind of relaxed, just had a beer in his hand and that was it. Nothing out of the ordinary. Nothing scandalous. But I gotta think it would be him. It would be the right time and the right place."
As far as figuring how who the hardest partier was, Perry referred all future inquiries to the road crew.
"They were the ones that would come back and try and sweep it all up."
Perry just announced a 10-city tour with Gary Cherone and Brad Whitford in support of his latest solo album, Sweetzerland Manifesto.
Photo: Getty Images
Chat About Joe Perry Is Pretty Sure He Partied With Donald Trump in the '70s