Smashing Pumpkins Bring 'Shiny and Oh So Bright' Songs to 'Kimmel': Watch
By Katrina Nattress
December 12, 2018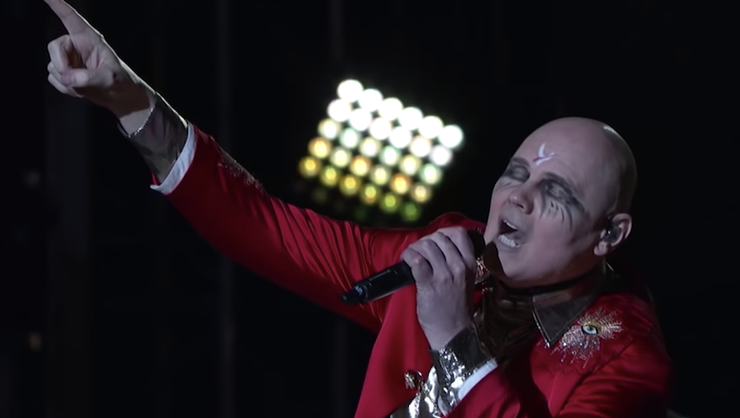 The Smashing Pumpkins recently wrapped up their lengthy 30th anniversary Shiny and Oh So Bright tour, but before going on holiday break the band stopped by Jimmy Kimmel Live! for the show's iconic outdoor concert series.
The rockers chose two tracks off their recently released SHINY AND OH SO BRIGHT, VOL. 1 / LP: NO PAST. NO FUTURE. NO SUN.: the shimmering "Silvery Sometimes (Ghosts)" and rumbling "Knights of Malta." Billy Corgan decided to go guitarless for the set, striding around the stage in an elaborate stage costume. Channeling his inner David Bowie, the frontman donned a decorative red jacket with a long train, a metallic silver dress and face paint. Those who didn't know better may have thought he was an intergalactic ambassador from another planet.
Watch the performances below.
Now that the 2018 tour's wrapped up, Corgan has divulged some interesting information concerning his end-of-year plans, including conceptualizing a Christmas record.
"We're already talking about tour stuff for next year, so there will be more Pumpkins shows in 2019," he divulged to USA Today. "But for me, once we get off tour, I'm either going to be doing some writing in LA with some friends or going back to Chicago to start writing new Smashing Pumpkins. I also have an inkling to try and get us to do a Christmas record one day, so I might try to use the Christmas spirit to put the record together in concept, even if we're not ready to record it."
Though the band has never put out a full album of holiday music, Corgan wrote a song called "Christmastime" in 1997 for A Very Special Christmas compilation, and it's pretty whimsical.
Photo: YouTube
Chat About Smashing Pumpkins Bring 'Shiny and Oh So Bright' Songs to 'Kimmel': Watch