Weezer Covers 'Everybody Wants To Rule The World' With Tears For Fears
By Katrina Nattress
April 16, 2019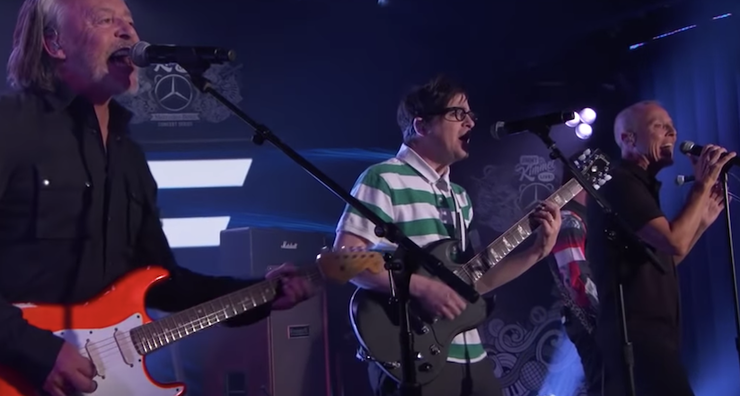 Weezer stopped by Jimmy Kimmel Live! on Monday night (April 15) while killing time between Coachella weekends and brought some friends from the desert along with them. During their Coachella set on Saturday (April 13), they performed their cover of "No Scrubs" with TLC's Chilli — making her dreams come true — and "Everybody Wants to Rule the World" with Tears for Fears. After the weekend was over, Roland Orzabal and Curt Smith made the trek to Los Angeles to accompany the indie rockers on their 1985 hit on the Kimmel stage.
It was clear Weezer's Rivers Cuomo was having a great time performing with the legends. He had a smile on his face the whole time and took a few opportunities to show off his shredding skills with some pretty epic guitar solos.
Watch Weezer perform "Everybody Wants to Rule the World" with Tears for Fears below.
Weezer descends on Indio for Coachella's second weekend on Saturday (April 20) before heading to Japan for the Summer Sonic festival, and Brazil for Rock in Rio. They also have a slew of European dates slated for this summer, as well as a couple Latin American dates with Foo Fighters and Tenacious D.
Photo: YouTube
Chat About Weezer Covers 'Everybody Wants To Rule The World' With Tears For Fears