Lori Loughlin 'Outraged' She's Being Called A 'Cheater' & Turned Into Memes
By Emily Lee
April 17, 2019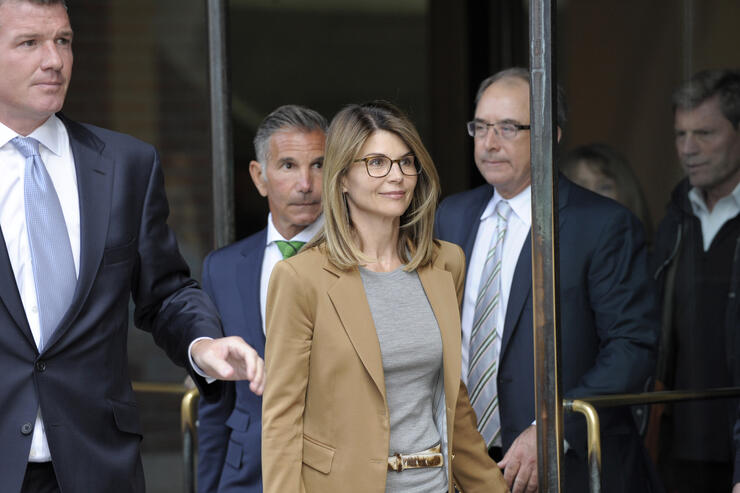 Lori Loughlin and Mossimo Giannulli are not happy with the response to the college admissions scandal. The Hollywood couple allegedly paid bribes of $500,000 in order to secure their daughters at USC and are charged with mail fraud and money laundering conspiracy. Instead of accepting a plea deal that would require two years of jail time, Loughlin and Giannulli will stand trial instead. They face up to 20 years behind bars for each charge brought against them. Despite the serious threat of jail time, Loughlin is reportedly "outraged" over the public's reaction to her involvement in the scandal.
"This is putting unspeakable stress on her and her family," a source close to Loughlin and Giannulli told People. "They're having to play this all out publicly, and they're fair game for jokes and memes, but also outraged [by] people who are saying that they are cheaters.They're being destroyed." So, basically, Loughlin isn't happy with all those Aunt Becky memes that sprung up on social media over the past few weeks.
"The idea of going to trial is terrifying for Lori," the source continued. "Everything comes out in trial, whether or not it's relevant to the case. She will be under a microscope, and you only have to look at the paparazzi outside the court to know that there is widespread interest in this case. She will lose every bit of her privacy, and that's a shame. This really is a family matter."
Loughlin expected a slap on the wrist for her involvement in the scam, especially since she fully believed "any mom" would have done what she did. A source told Entertainment Tonight that Loughlin claims "they were under the impression they might be breaking rules, but not laws. They feel they were manipulated by those involved and are planning that as part of their defense. They realize how serious the charges are, but feel that once the judge hears their story he will see they had no bad intentions."
Since Loughlin and Giannulli "in no way felt they were money laundering," they don't actually believe they will spend any time behind bars for their crimes. According to CBS' legal analyst Rikki Kleiman, however, the trial will likely not go in their favor. "If they have real physical evidence against Lori Loughlin, she and her husband are going to be in for a quick guilty verdict and a big punishment," she explained.
It seems like Loughlin and Giannulli have much bigger problems than those viral Aunt Becky memes, after all.
Photo: Getty
Chat About Lori Loughlin 'Outraged' She's Being Called A 'Cheater' & Turned Into Memes