Cardi B Shows Shocking Side Effect Of Cosmetic Surgery
By Paris Close
June 9, 2019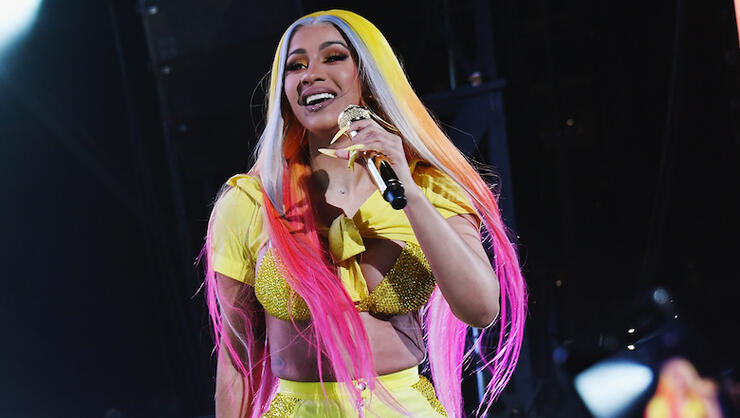 Cardi B's feet really were as bad as she claimed.
During a festival performance a few weeks ago, the "Clout" rapper confessed on-stage to undergoing liposuction. The post-op side effects of which caused the musician to sit out a few shows due to the swelling it caused to her body. "I just really wanted to apologize to my fans," she said in an Instagram Live video. "I just wanted to say I'm sorry guys, but I gotta get better. The way that my body be swelling up when I catch planes and sh*t it's so scary that I be freaking out."
"I hate canceling shows because I'm a money addict and I get paid a lot of money, a lot of money for these shows," she continued. "I'm canceling millions of dollars in shows. But like health is wealth so I have to do what I have to do."
Still, her detractors weren't buying the excuse, and many accused the 26-year-old of using the surgery as a ploy to sell more tickets. So in an effort to put disbelievers to rest, Cardi addressed the gossip on Friday (June 7).
"LMAAOOO All of the shows I canceled were sold out they even put it on the news on the El Paso news," she tweeted, adding, "I even show ya how swollen my feet got when I get off a plane so imagine how my stomach and my back get and the pain I feel due to surgery.Stop lying on me!"
Sure enough, the "Press" star made well on her promise — and now it seems haters will have to eat their words… or better yet, savor the taste of their own foot. "Look how swollen my feet get every time I take flights my stomach gets even more puffy," Cardi captioned a photo of her two, indeed, very swollen feet propped side-by-side hours later.
See the graphic photo below.
LMAAOOO All of the shows I canceled were sold out they even put it on the news on the El Paso news.I even show ya how swollen my feet got when I get off a plane so imagine how my stomach and my back get and the pain I feel due to surgery.Stop lying on me!

— iamcardib (@iamcardib) June 8, 2019
Chat About Cardi B Shows Shocking Side Effect Of Cosmetic Surgery