Jon Anderson-Led Version of YES Will Split Up After 2020 Tour
By Andrew Magnotta @AndrewMagnotta
August 1, 2019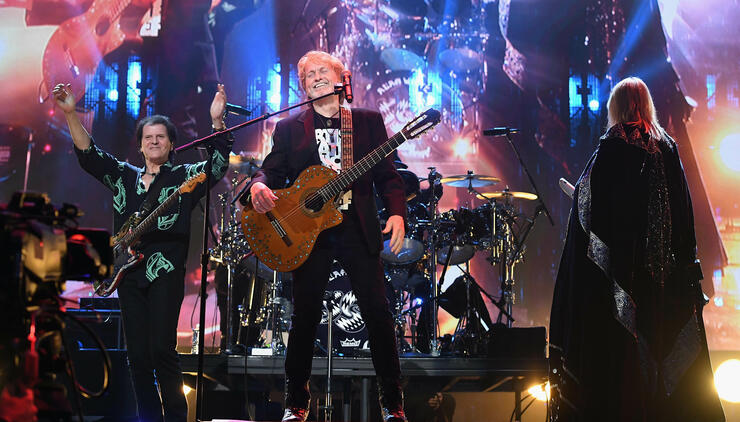 There may only be one Yes by 2021 — at least if the one led by the band's lone-surviving co-founder sticks to its current plan.
Yes Featuring Jon Anderson, Trevor Rabin and Rick Wakeman say they are coming to the proverbial end of the road after some touring in 2020.
Wakeman tells Billboard that the band is still mulling the possibility of releasing new music, but there isn't much touring left in ARW's future.
"We feel it's sort of come to the end of the road," the keyboardist/comedian said in a recent interview. "None of us are spring chickens anymore, although Trevor still has a '6' in front of his age, whereas Jon and I don't. I think we'll thoroughly enjoy another [tour] and then I think we can sort of proudly close the lid on it, very happy in our belief that we've done it proud."
Yes Feat. ARW has apparently had new songs in the works going back as far as 2011. Wakeman says the trio has always agreed that it wouldn't "release stuff for the sake of releasing it," though the have a new pieces that they feel strongly about.
Wakeman says he likes the idea of the band releasing "one final burst of music that we can be proud of."
Anderson is optimistic about the future of Yes, whatever that entails.
"People have a life they want to live and go through," he said. "It's not a good explanation, but it just doesn't work at times. There's maybe 20 versions of Yes I've been in, and every one's been fantastic — but it was always chaos in there for some reason."
Anderson's latest solo album, 1,000 Hands - Past, Present, Future, Part 1, features contributions from the other Yes leader, guitarist Steve Howe. The front man has remained open to reuniting himself, Rabin and Wakeman with Howe and drummer Alan White for the most Yessy version of Yes possible, but there are no plans for that at this point.
Howe added in the Billboard interview that he never opposed ARW utilizing the Yes moniker. He wished them "good luck" on their final tour.
Anderson said this past winter that he's been writing new songs just in case Howe invites him to reconstitute the band they shared for so long.
"I'm very open to it," Anderson told Rolling Stone at the time. "It's been 50 years now. You think something has got to happen. To me, a great album has to be made. That's what I think. I don't know how it's going to be made, but the final Yes event should happen."
Photo: Getty Images