Cardi B & Nicki Minaj's Feud Is Back On — Rappers Appear To Reignite Beef
By Peyton Blakemore
August 14, 2019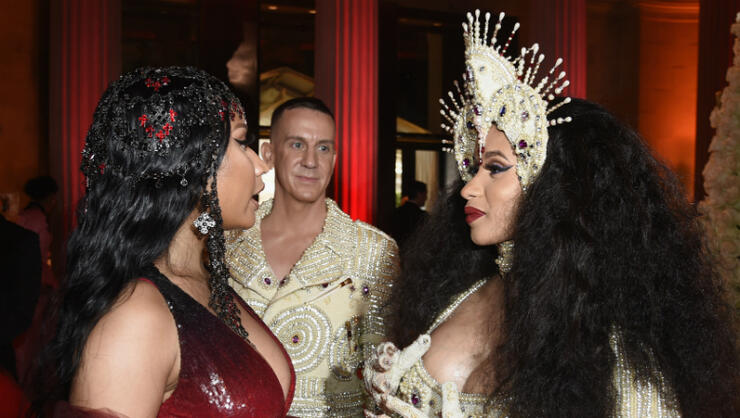 Well... it looks like Cardi B and Nicki Minaj's truce is over.
After months without incident, Nicki appeared to reignite their beef by throwing some not-so-subtle shade at Cardi during an interview with Joe Budden on Wednesday (August 14). And Cardi being Cardi appeared to fire back with some not-so-subtle shade of her own.
Here's how it all went down:
After discussing the "Motorsport" drama, yet again, Nicki reminded Joe about her "authentic come-up," saying she relied only on her talent to make it in the industry. "I still had to go through these things because of people like you who made a sport out of tearing down a young, black woman who's done nothing but come in this game with an authentic come-up, writing raps, and doing what the f**kin' was really necessary," she said. "No Instagram, no reality shows, no sucking DJs' d*cks."
While Nicki didn't say any names, Cardi gained a large following on Instagram before appearing on VH1's reality show Love & Hip Hop: New York, and Nicki has previously accused her of having relationships with DJs to get her music played. All of which, is what caused many listeners to believe that Nicki was taking shots at Cardi.
However, the alleged shade didn't end there. Nicki then brought up that viral 50 Greatest Rapper List of all time, which sparked a few other more credible lists, and how she'd rather be respected by her peers — she's on a few of the "respected" top 50 lists — than receive a Grammy like other artists. "I would feel so f**king crazy if I had No. 1s and Grammys and ain't on nobody's top 50 list," the "Hot Girl Summer" rapper said, which appeared to be another jab at Cardi, who won a Grammy for her debut album, Invasion of Privacy, earlier this year and had multiple No. 1 singles.
Again, Nicki didn't mention names, but that didn't stop fans from speculating that she was subbing Cardi. And not too long after the interview began making its rounds on the Internet, the "Press" rapper posted what some have called a "response" to Nicki's alleged shade. "One year and some change later and my album is still SELLING .Only list I give a f**k about .💁🏽‍♀️💁🏽‍♀️💁🏽‍♀️💁🏽‍♀️," she captioned a list of the world's top-performing albums that showed Invasion of Privacy's continued success. "Have a beautiful day everybody 😘😘😘."
Guess that means it's Nicki's move now.
Chat About Cardi B & Nicki Minaj's Feud Is Back On — Rappers Appear To Reignite Beef