Tekashi 6ix9ine Expected To Testify At Trial Next Week
By Peyton Blakemore
September 4, 2019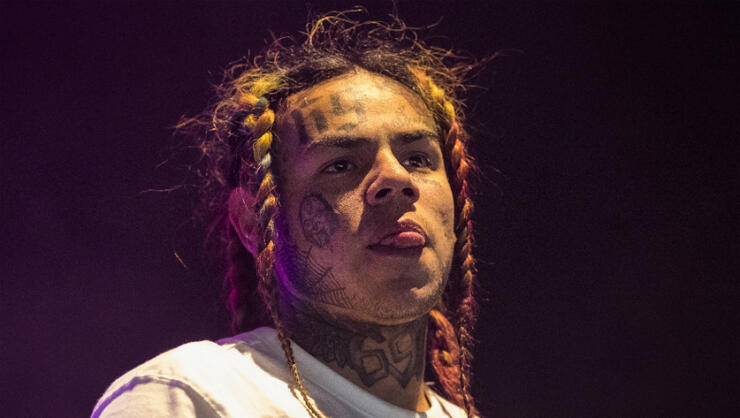 Tekashi 6ix9ine is set to take the stand next Monday (September 9).
According to multiple reports, the 23-year-old rapper will testify in the trial of two Nine Trey Gangsta Blood affiliates — Anthony "Harv" Ellison and Aljermiah "Nuke" Mack — in regards to their connection to various gang activities. 6ix9ine, who is listed a cooperating witness for the Feds, is reportedly expected to speak about his alleged kidnapping last year.
Harv is accused of kidnapping and robbing 6ix9ine in July 2018. However, he claims the abduction was fake and was merely album promotion for the then up-and-coming rapper. While Tekashi is expected to take the stand against the two men, prosecutors requested that defense attorneys ignore his October 2015 sexual misconduct conviction during his line of questioning.
As fans know, 6ix9ine is currently being held in federal jail without bail. In January, he entered a guilty plea for nine federal charges against him, including multiple counts of racketeering, conspiracy, firearms offenses, and narcotics trafficking. While it's unclear what sentence he'll have after coping guilty pleas — he was previously facing 32 years to life after being charged with six federal crimes (more charges were added while he was behind bars)— he will be sentenced on January 23, 2020.
Last month, the "FEFE" rapper's girlfriend Jade shared the latest photo of 6ix9ine from behind bars after a fan asked her on Instagram "When was the last time you visited him?"
While Jade didn't reveal the date of her last visit, she did share a photo of her kissing the "LANES" rapper, who looked like he ditched his infamous rainbow-colored hair.
Photo: Getty Images
Chat About Tekashi 6ix9ine Expected To Testify At Trial Next Week