The US Navy Finally Acknowledges UFOs Thanks To Tom DeLonge
By Katrina Nattress
September 18, 2019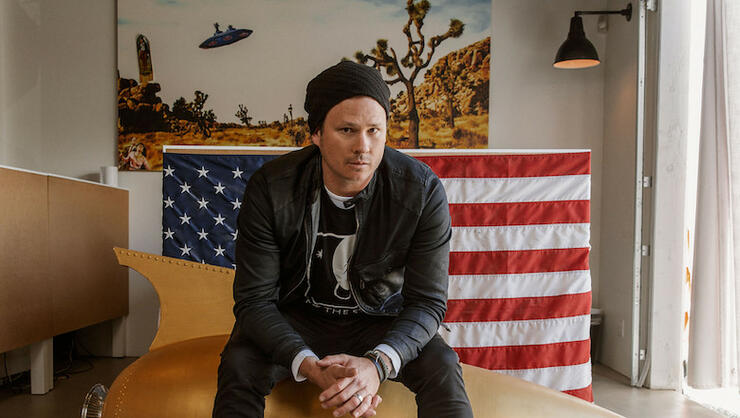 Tom DeLonge has been telling us aliens exist since 1999, and now he's working on proving that theory. Ever since leaving blink-182 in 2015 the musician has been focusing on his UFO research firm To The Stars Academy of Arts & Science (when he's not making music with Angels & Airwaves), and the accomplishments he's achieved in the past two years alone have been pretty astonishing.
One of the many things his company has done in the past few years is make public some intriguing videos shot by US Navy pilots that seem to document UFOs. The clips racked up millions of views, causing the Navy to investigate the incidences. They couldn't identify the aircrafts and a spokesperson recently told Motherboard "the Navy considers the phenomena contained/depicted in those three videos as unidentified." This is significant because it's the first time the Navy has ever officially classified an aircraft as "Unidentified Aerial Phenomena."
"That the Navy is using the term 'Unidentified Aerial Phenomena' shows that they have broadened what is expected to be reported by US fighter pilots to investigate anything unknown in their airspace that in the past has been connected with a stigma," Roger Glassel, a Swedish writer and UFO specialist, told Motherboard.
Watch the videos DeLonge made public below.
On Wednesday (September 18), DeLonge celebrated the accomplishment in an Instagram post.
"I was in New York yesterday getting ready for our show when my phone explodes with messages that the Navy has acknowledged that the three videos taken by their fighter pilots really do show unidentified aerial phenomenon," he wrote. "I applaud their lifting the silence. THIS IS HUGE! The @tothestarsacademy team has been working tirelessly in Washington to move the subject of UAPs past stigma and toward acceptance. You've seen a glimpse of our efforts on @history's docuseries #Unidentified. You've seen the conversation change in the mainstream media over the last couple of years. You've seen our Government leaders start to ask questions that haven't been asked in a long time. The Navy even recently announced a policy change that made it easier for its personnel to report unusual sightings, which is a giant first. But this acknowledgement by the Navy is unprecedented."
"Facts are starting to replace unsubstantiated claims and the fog that has masked the reality of UAPs is clearing," he continued. "WE ARE MAKING REAL PROGRESS – I AM SO EXCITED!!"
Check out the celebratory post below.