Brett Young Prompts Crowd To Slow Dance At iHeartRadio Daytime Stage
By Lindsey Smith
September 21, 2019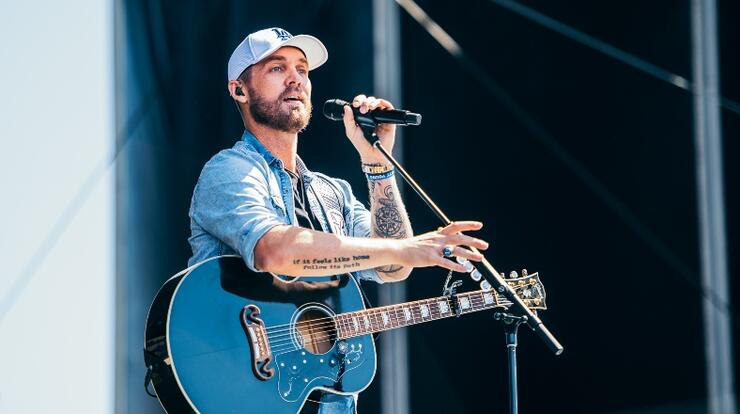 Who needs a "Ticket To L.A." when the party is happening in Vegas! 
Brett Young took the stage during the 2019 Daytime Stage at the iHeartRadio Music Festival on Saturday (September 21) in Las Vegas and wasn't shy about bringing a little honky tonk to Sin City. 
Young's friend and idol, Gavin DeGraw, introduced him in front of the huge crowd. "He's a good friend of mine from Orange County," DeGraw said. "He's one of my of my favorite drinking partners."
Young took the stage in what can only be described as his unofficial uniform: black jeans, a black T-shirt, and denim over-shirt.
He performed so many of his hit songs and started off his set with his single "Catch." He then kept the energy high and surprised the crowd with a special guest. Gavin DeGraw came back out on stage to sing "Chapters" with Young and it was an incredible moment. After their amazing collab, Young finished his set with "Sleep Without You," "In Case You Didn't Know," and "Here Tonight."
During "In Case You Didn't Know," Young prompted the ENTIRE crowd to slow dance with the people around them and it was a sight to be seen as everyone swayed back and forth with their friends, significant others, and complete strangers!
Young has so much more to celebrate in addition to his incredible set, he and his wife, Taylor, are expecting their first child. The pair also recently confessed they got married months before their wedding.
If you missed any part of the weekend, we've got you covered. Fans can re-live all of the epic performances and collaborations by tuning in to a televised special on The CW Network at 8pm ET/PT. And leading up to the official television special, The CW will also air an hour-long Best Of Special on Sunday, September 29th at 8 p.m. ET/PT taking a look back on all of the most iconic moments from the festival in its nine year history.