6ix9ine's Not Going Into Witness Protection, He's Got BIG Post-Prison Plans
By Peyton Blakemore
September 26, 2019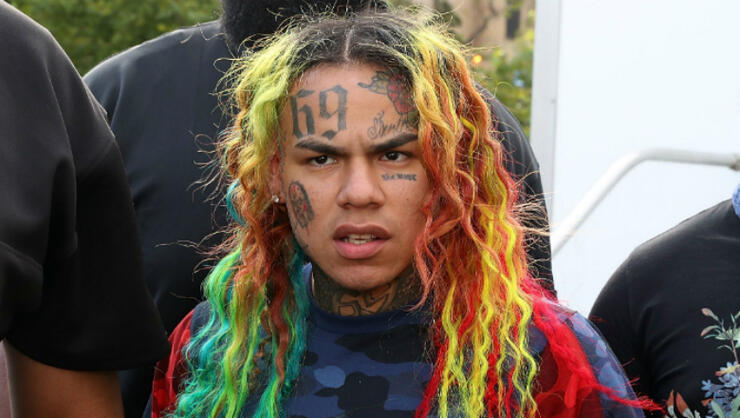 Say what you want about Tekashi 6ix9ine, but the guy's a complete optimist.
Neither the fact that he's facing decades behind bars or the fact that he's been deemed a "snitch" worldwide has gotten in the way of the 23-year-old rapper's career dreams.
According to TMZ, 6ix9ine, who has been testifying against his former crew, the Nine Trey Gangsta Bloods, for over a week, is planning to reject going into the witness protection program if he becomes a free man again, all so he can continue to have a life of fame. Sources told the outlet, Tekashi's "still itching to make new music, and believes he can pick up where he left off."
As fans know, 6ix9ine is looking at an upward battle given the fact that he has not only named names — he's alleged that Jim Jones, Cardi B, Trippie Redd and many more artists are all gang affiliated — he revealed his role in the gang, admitting that he made money for Nine Trey that was distributed among Nine Trey members in order to have their protection and garner street cred. All of which has led to a number of artists to say they would never associate with him, or at the very lest work with him again.
However, even after such a controversial testimony, insiders told TMZ, Tekashi is optimistic. He reportedly realizes the Nine Trey Bloods could be gunning for him, as well as others who are pissed he turned into a "rat" for the feds, but his safety plan for being out in the real world is simply "round-the-clock security."
The "FEFE" rapper, who currently being held in federal jail, is hoping his tea spilling is enough for him to be released based off of time served instead of facing the 30-plus years minimum in prison. In January, 6ix9ine entered a guilty plea for nine federal charges against him, including multiple counts of racketeering, conspiracy, firearms offenses, and narcotics trafficking. While it's unclear what sentence he'll have after coping guilty pleas — he was previously facing 32 years to life after being charged with six federal crimes (more charges were added while he was behind bars)— he will reportedly be sentenced on January 23, 2020, which means he could be out as early as next year.
Photo: Getty Images