Aaron Carter Just Got A Huge Face Tattoo, But Claims He's 'Doing Just Fine'
By Paris Close
September 30, 2019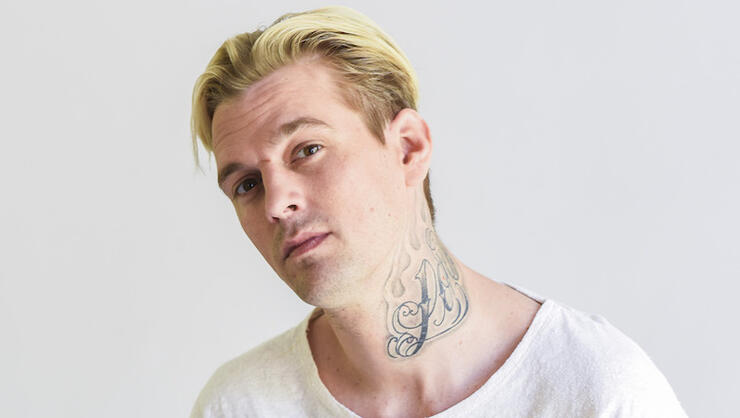 Don't be alarmed, but Aaron Carter just got an outrageously large tattoo of Medusa on his face.
On Saturday (September 28), the "Sooner or Later" star debuted quite the new look on his Instagram account when he unveiled some new face ink of the mythological monster, which covers his jaw and cheekbone and pretty close to his under eye area too. "I'M THE BIGGEST THING IN MUSIC RIGHT NOW. I CANT BE DENIED. FACT CHECK ME," Carter captioned the selfie in which he appears shirtless while flaunting his other body ink, including those on both his forearms, shoulders, chest and neck.
Aaron has given no word on what inspired him to get tatted on his face, though it's likely the spontaneous decision may have been motivated by much of the drama he's had with his brother, Nick Carter. It seems apparent, as the 31-year-old had this to say of the ongoing family feud on Twitter the same day: "I will never see or speak to him [Nick] or the rest of my family."
Despite all the tension, Aaron assured fans: "I'm doing just fine. I ask you repent my and leave me alone. I already have to move and I don't need to be under scrutiny with every decision I make. I will take the necessary precautions to protect myself, and when I move no one will know where I live! #MissingMyMom right now."
Earlier this month, Aaron was slapped with a temporary restraining order from Nick and their sister, Angel, after it was alleged he'd threatened to kill Nick's "pregnant wife and unborn child" following a fallout between the brothers. Apparently, the incident has caused the Backstreet Boys member to increase his security, and the entire situation seems to have driven a wedge between Aaron and his relatives.
As previously reported, Aaron revealed he is currently seeking treatment after selling back his guns after being forced to surrender other firearms as a condition of the order of protection against him.
I'm doing just fine. I ask you repent my and leave me alone. I already have to move and I don't need to be under scrutiny with every decision I make. I will take the necessary precautions to protect myself, and when I move no one will know where I live! #MissingMyMom right now.

— Aaroncarter (@aaroncarter) September 28, 2019
Chat About Aaron Carter Just Got A Huge Face Tattoo, But Claims He's 'Doing Just Fine'