Rick Wakeman Says YES Died With Chris Squire, Opposes Own Use Of YES Name
By Andrew Magnotta @AndrewMagnotta
October 14, 2019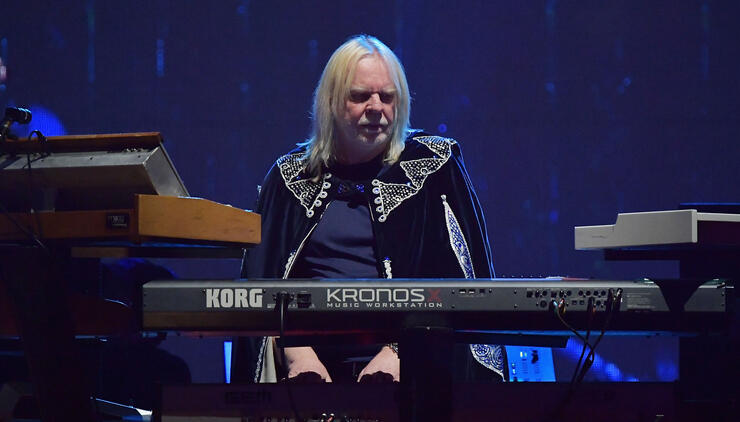 If you've been following Yes for a long time, you're probably not confused by the fact that there are two bands called Yes, featuring former members of Yes.
But it's not hard to imagine how some people have blamed headaches on the whole saga.
For what it's worth, keyboardist Rick Wakeman says the band should have ended when co-founding bassist Chris Squire died in 2015 of leukemia. Wakeman doesn't think guitarist Steve Howe and drummer Alan White should have continued touring as Yes, and he opposes his own band, Yes Featuring Anderson, Rabin and Wakeman's use of the moniker.
"Steve can carry on playing Yes music same as we did," Wakeman told Rolling Stone. "We were just as guilty calling it Yes Featuring ARW, which I objected to vehemently. There's no reason we can't go out and play the music, but I really feel that the name should have been retired. I think it was disrespectful to Chris. There were all sorts of stories going around that, 'Oh, Chris wanted it to continue.' I know for a fact people that spoke to Chris and that isn't true."
ARW added Yes to its name following a declaration by front man Jon Anderson after Yes's Rock and Roll Hall of Fame induction in 2017. The "other" Yes did little to object, acknowledging Anderson's claim as the band's lone-surviving co-founder.
In a September interview with Q104.3 New York's Out of the Box with Jonathan Clarke, Wakeman clarified that there's no bad blood as far as he can tell between the two Yes bands. He said he'd be happy to reconnect with Howe.
"When Steve lost his son we were on tour as ARW and we were just genuinely absolutely gutted; it was just horrendous," Wakeman said, regarding the tragic death of Howe's 41-year-old son Virgil two years ago. "I did send him an email with no reply necessary...'cause I knew Virgil. There's a sort of a brotherhood in Yes; there's been some ludicrous things said. I find some of them quite funny."
While Wakeman has had little contact with his former Yes band mates, Anderson was thrilled to announce earlier this year that Howe contributed to his latest solo album, 1,000 Hands.
The singer has repeatedly pushed for a reunion since the Hall of Fame induction, and revealed in a subsequent interview that he's been writing new songs in case that comes to fruition.
While Yes Featuring ARW is still considering the prospect of releasing new music, Wakeman explained this summer that the band does not plan to tour again.
Wakeman has a few live dates left on his 'Grumpy Old Rock Star' solo tour. See them here.
Photo: Getty Images
Chat About Rick Wakeman Says YES Died With Chris Squire, Opposes Own Use Of YES Name