Reporter Fired After Jumping On Cars, Damaging Them In Live News Segment
By Dave Basner
October 23, 2019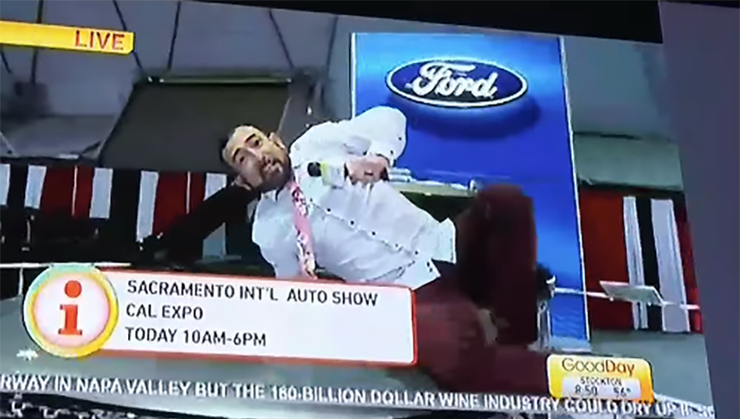 Crazy things can happen on live tv and sometimes, to make sure their time on-air is exciting, some reporters will make absurd things happen. Often, this just leads to entertaining moments for the viewers but occasionally, reporters go a little too far. That's just what one local CBS reporter in California did. His name is Angel Cardenas and he was a correspondent with KMAX-TV's Good Morning Sacramento, but after his segment on Sunday, he's no longer part of the show.
Cardenas was reporting live from the Sacramento International Auto Show, where he jumped on a brand new model vehicle as well as a privately-owned classic car, plus he opened a door into one of the vintage vehicles.
Footage of the report was posted to Facebook with a caption that says in part, "I've never seen such a disregard for someone else's vehicle." In the clip, Cardenas reveals that he and a media coordinator are the only ones at the event, which hadn't yet opened to the public. He adds that being alone there means, "No one is out here to tell me which car I can't go in, cause some of these are off-limits, so I'm just gonna live on the wild side." At that point he hops onto a yellow Ford Thunderbird and poses.
He jokes, "I feel like a kid in a candy store without the owners because you can do anything." Then, he opens the door of a pink T-bird into the car next to it. After inspecting for damage, he states, "Nobody's looking," then ignored it.
Later, he jumps over a barrier to get on the hood of an unreleased electric Ford Explorer, causing even the anchors of the morning show to suggest he get off of it.
The segment caused such an uproar with car enthusiasts that the car show addressed the incident on their Facebook page, explaining that they reached out to the General Manager of the affiliate about the "astonishingly awful incident." They were told that the station expresses their "sincerest apologies" and that the reporter has been terminated.
No word on what's next for Cardenas.
Photo: Facebook/AdamCopeland
Chat About Reporter Fired After Jumping On Cars, Damaging Them In Live News Segment