Cardi B Defends Kanye West After Comedian Says He 'Fell Off'
By Peyton Blakemore
October 30, 2019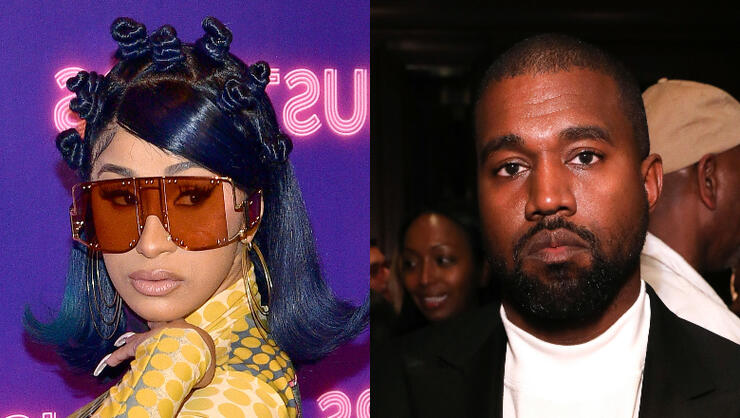 Cardi B may have extremely different political views than Kanye West, but that doesn't mean she's going to sit idly by and let haters criticize the rapper.
Earlier this week, comedian Karlous Miller bad-mouthed Ye's music, specifically his new sound and gospel album, Jesus Is King, leading to Cardi to defend Mr. West.
"Kanye West fell off. And won't nobody say it," Karlous wrote on Twitter. Hollywood Unlocked later shared the tweet on Instagram, which led to Cardi sharing her thoughts about his opinion in the comments section. "Kanye West found God and people call that falling off 😒," the "Press" rapper wrote.
As fans know, Ye's album, which was released on Friday (October 25) and has since received less-than-positive reviews, marked a new era for Kanye, who has been on spiritual journey for most of 2019, as it was his first, assumingly of many, gospel albums.
The "Every Hour" rapper has boldly stated that he is done performing and/or releasing secular music, which includes performing his previous hits. "When you walk in the Apple store, you don't see no iPod 4," he explained to Big Boy in a recent interview when asked about retiring his old catalog. "I barely even know any of my rap lyrics now because I'm so focused on God, my family, building communities."

In a separate interview, the 42-year-old rapper spoke about his faith and revealed what went into the making of Jesus Is King, explaining that he made some pretty "radical" requests for those who were involved in its creation.
"I was asking people to fast during the album. There were times where I was asking people not to have premarital sex while they were working on the album," Ye shared. "There were times where I went to people that were working on other projects and said, 'Can you just work and focus on this?' I thought if we could all focus and fast — families who pray together stay together."
Photo: Getty Images
Chat About Cardi B Defends Kanye West After Comedian Says He 'Fell Off'