Jonas Brothers Announce Holiday Song 'Like It's Christmas' Coming Friday
By Lindsey Smith
November 4, 2019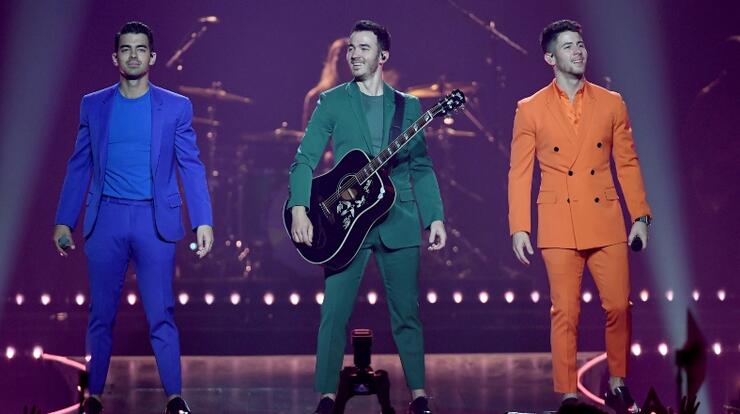 With November in full swing, it's time to start getting into the holiday spirit (sorry, Thanksgiving). And since the Queen of Christmas herself, Mariah Carey, already rung in the start of the holidays, many artists are following her lead.
On Monday (November 4), the Jonas Brothers took to social media to announce they'll be releasing a new holiday song, "Like It's Christmas" on Friday (November 8).
The announcement came with the single artwork featuring a drawing of Kevin, Joe, and Nick with Santa hats and a piece of holly underneath. "Mariah Carey has given the world the green light, so the holiday season has begun!!!" the brothers wrote on Twitter and Instagram. "Our brand new original Christmas song #LikeItsChristmas is out on Friday people."
Hardcore fans will note that this isn't the band's first Christmas song as they released the iconic holiday song "Girl Of My Dreams" back in 2007 as part of the Disney Channel Holiday album.
The brothers are currently on their Happiness Begins comeback tour after being on a years-long hiatus and also released their first album in over a decade earlier this year.
Here's hoping the band will perform "Like It's Christmas" at this year's iHeartRadio Jingle Ball.
Jonas Brothers are performing at this year's iHeartRadio Jingle Ball in New York City, alongside a star-studded lineup. Fans will be able to watch the show on December 13th via an exclusive livestream on The CW App and CWTV.com. The CW Network will also broadcast the event as a nationwide special on Thursday, December 19th at 8pm ET. Fans will also be able to listen to December 13th's festivities across the country on 100 iHeartRadio CHR stations.
Photo: Getty Images