Thomas Rhett's Daughters Shined Bright On The CMA Awards Red Carpet
By Blake Taylor
November 14, 2019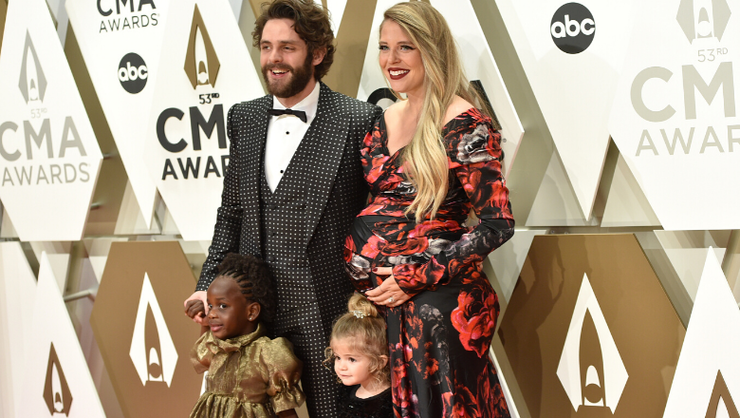 Thomas Rhett decided to mix it up a bit for this year's CMA Awards red carpet. Usually, the country singer is accompanied by just his wife Lauren, but this year he had two more special ladies along for the ride.
In addition to Lauren, the "Remember You Young" singer was joined on the red carpet by his two adorable daughters, Willa Gray and Ada James. The family of four, soon to be five, shined bright on country music's big night.
Lauren, who is expecting baby number three in February was glowing in her red and silver floral dress. The couple announced they were expecting another baby girl earlier this year. "Excited to share that I will now be paying for 3 weddings," Rhett wrote in an Instagram post at the time, adding, "I feel so blessed to say that our third child is on the way and it's a girl!!"
It's clear that this country star is a big family man. Earlier this week, he shared the new video to his current single "Remember You Young." The clip includes actual home video footage from Rhett and his family.
Some of the home videos included show the girls playing piano together in matching outfits, Willa Gray reading to her sister then kissing her on the cheek, Rhett carrying both girls on his back and many more. The addition of home video adds another layer of depth to the heartfelt track.
Chat About Thomas Rhett's Daughters Shined Bright On The CMA Awards Red Carpet