Dee Snider, Nergal Positive That There Is A New AC/DC Album Coming
By Andrew Magnotta @AndrewMagnotta
December 9, 2019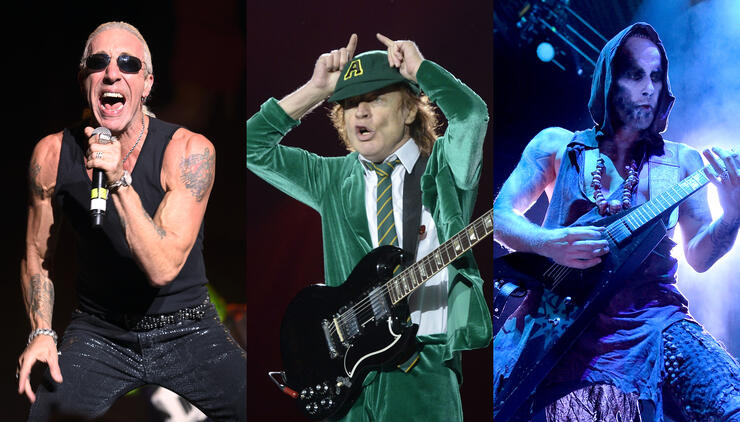 Two metal legends purportedly in the know are assuring fellow AC/DC fans that the legendary band has indeed recorded a new album that features the return of longtime AC/DC front man Brian Johnson and some of late-guitarist Malcolm Young's final recorded guitar tracks.
Behemoth front man Nergal recently touched upon the subject in an interview with Loudwire. While the famed Polish black metal musician did not reveal his source, he left little room for doubt.
"I know there's a new AC/DC album in the making with Malcolm Young. It's coming," he said. "It's going to be an outtake from [2016's] Rock or Bust. What do I expect? I expect nothing more and nothing less, just give me f---ing rhythm and give me Angus [Young] and Malcolm guitar. That's it. Don't give me anything extra..."
He added, regarding Johnson's '16 departure from the band, Nergal added: "Yeah, he's back in the band."
Former Twisted Sister front man Dee Snider joined the conversation via Twitter this past weekend, while addressing one of his favorite subjects: the NFL's refusal to book hard rock or metal bands for the Super Bowl halftime show.
Snider refuted the argument that hard rock doesn't have the mass appeal that pop stars like Jennifer Lopez have by pointing out that AC/DC's Back In Black is the "SECOND BIGGEST SELLING ALBUM WORLDWIDE IN HISTORY."
When Snider's replies filled up with comments saying AC/DC is not longer an active band (and one person wondering "isn't that one guy from AC/DC sick"), he explained that the band is about to ramp up to a new album — he thought everybody knew that, he added.
While it's been over a year since the likely new lineup of AC/DC was seen at a Vancouver recording studio, Snider dispelled skepticism by saying that he "just saw Brian [Johnson]...he's good."
In a follow-up, Snider confirmed that longtime bassist Cliff Williams (who retired after the band's 2016 tour) and drummer Phil Rudd (who hasn't toured with the band since 2015 due to legal issues) are also back in the band.
Johnson reportedly told some fans this past February that he was "tired of denying" that he was back in AC/DC.
Photo: Getty Images