Garth Brooks Will Extend His 'Dive Bar Tour' Into 2020
By Blake Taylor
December 10, 2019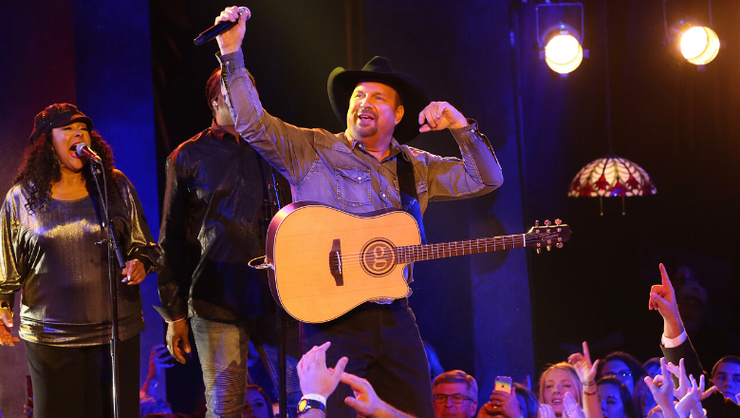 Garth Brooks will officially extend his Dive Bar Tour into 2020!
The country star announced the news on Monday night (December 9) during his weekly Inside Studio G broadcast airing on Facebook Live.
"It's official. It's like, why stop eating ice cream, right?" Brooks says in the live stream. "The dive bars are just too good, so we're gonna continue them through 2020."
He adds, "You're lucky enough to do stadiums, arenas, theaters outdoor shows, whatever...dive bars might be hittin' that sweet spot for me."
Brooks has not announced any dates for the 2020 leg of the tour at this time, but did share that he'll start it off in Boston, Massachusetts area as the weather previously prevented him from playing a December 2 Dive Bar Tour stop.
Brooks' Dive Bar Tour launched earlier in the year as a partnership with Seagram's 7 Crown. Throughout the last few months of the year, the tour was to make stops to seven intimate venues around the country.
Brooks' Dive Bar Tour has also helped with promoting his latest single, "Dive Bar," a duet with Blake Shelton. Brooks co-wrote "Dive Bar" with Mitch Rossell and Bryan Kennedy, and asked Shelton to be part of the track after seeing him perform at the 2019 ACM Awards in April.
In addition to his Dive Bar Tour runs, the country star has also continued with his massive Stadium Tour, which launched in 2018 and will run for three years. Brooks plans to perform shows at 10-12 venues each year for a grand total of about 30 stadium shows completed in the end.
So far, Brooks has revealed three Stadium Tour dates for the new year. First, he'll make his way to Detroit, Michigan on February 22. A few months later on May 2, he'll stop in Charlotte, North Carolina followed by a show in Cincinnati, Ohio on May 16. Tickets to the tour are available now.
Photo: Getty Images
Chat About Garth Brooks Will Extend His 'Dive Bar Tour' Into 2020