Princess Love Reveals The Name Of Her Ray J's Newborn Son
By Peyton Blakemore
January 2, 2020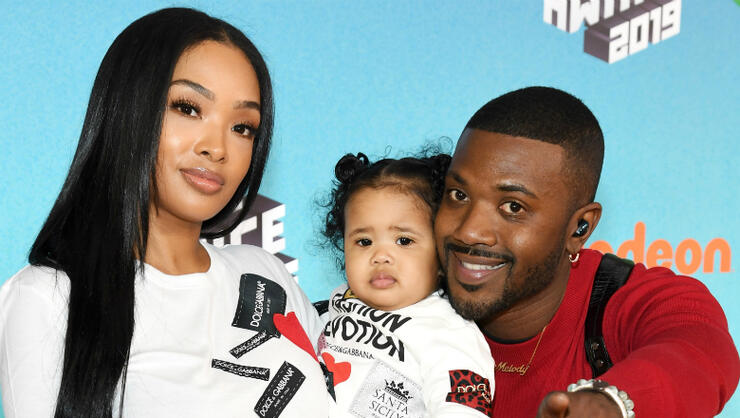 Princess Love and Ray J's newest addition has finally arrived.
The on-again-off-again married couple announced their baby boy's arrival on Monday (December 30), sharing the news on YouTube.
Following their video announcement, Princess revealed the name of their newborn son on Instagram captioning a photo of the little one holding her thumb: "Epik Ray Norwood 💙."
Back in August, Ray and his wife of three years, Princess, announced that they were expecting their second child. "Somebody's gonna be a big sis 👶🏽🍼," the expecting mom captioned a series of Instagram photos of her, Ray and their daughter one-year-old Melody Love, who wore a "big sis" t-shirt. "New addition arriving Jan 2020 @melodylovenorwood @rayj #2under2 #Blessed."
Ray also shared the exciting news on his Instagram. "Baby #2 on the way! @MelodyLoveNorwood your about to be a big sister! #Godisthegreatest @princesslove," the proud dad captioned photos of his family enjoying a pool day.
The Love & Hip Hop stars welcomed their second child nearly two months after their now now-infamous week-long online feud.
Ray opened up the status of his relationship with his wife, who accused him of leaving her their daughter Melody "stranded" in Las Vegas in November, while appearing on The Wendy Williams Show last month.
"Again, look, it didn't happen like that. I would never leave my baby and my wife. I would die first before I leave them on the side of the road. They were at the hotel and that's what she considered stranded," he explained. "But look, she's right, I'm not even going to defend it. Baby, I was wrong. You were right."
Ray went on to explain what sparked their initial argument, confirming Princess' previous statement that it was over Ray wanting to move their family to Las Vegas and her wanting them to stay in their current home of Los Angeles. "I'm done with Vegas. I hate Vegas. Never again," he told Wendy. "Princess made it pretty much clear enough, so at the end of the day, I've got to compromise. I have to do better as a husband. I've got to do better. I've got to do better and I have to understand my wife is pregnant and I have to think a little more wiser when I'm making decisions."
Ray additionally referred to his and Princess' feud in his video announcement about Epik's arrival, captioning the video: "I love you princess love! And my babygirl melody! I don't ever wanna lose our time together. I'm sorry for everything. 2020 will be somthing very special."
Chat About Princess Love Reveals The Name Of Her Ray J's Newborn Son