Beyonce Performs Musical Tribute To Kobe Bryant At Public Memorial Service
By Peyton Blakemore
February 24, 2020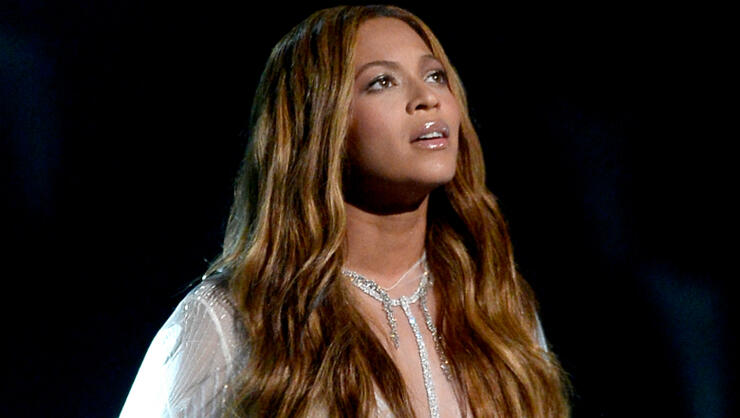 Beyoncé opened Kobe and Gigi Bryant's Celebration of Life service with an emotional rendition of her hit song "XO."
"I'm here because I love Kobe and this was one of his favorite songs," she told the 20,000 mourners at Staples Center on Monday (February 24). She then explained that she was going to restart the song and asked the crowd to sing along as they celebrated the life of Kobe and Gigi.
After the track concluded, Bey went on to sing her 2008 hit "Halo," which she ended with a kiss up to the heavens.
The 38-year-old entertainer paid tribute to the father and daughter on Instagram days after the two, along with seven other passengers, were killed in a tragic helicopter crash.
Bey first posted two caption-less photos to Instagram — one of a young Kobe and one of Gigi — before sharing her third post, which showed Kobe kissing Gigi's head while they two sat courtside at a basketball game. Beyoncé captioned the heartfelt shot with a message of support to the Bryant family, promising to keep Kobe's girls — his wife Vanessa and three other daughters —Natalia, 17, Bianka, 3, and Capri, 7 months — in her prayers.
"I will continue to diligently pray for your Queens," the "Spirit" singer wrote. "You are deeply missed beloved Kobe."
Kobe and Gigi's memorial came weeks after their family held a private burial. Monday's public ceremony additionally honored the seven other passengers — John Altobelli, Keri Altobelli, Alyssa Altobelli, Sarah Chester, Payton Chester, Christina Mauser, and the helicopter's pilot Ara Zobayan — onboard the helicopter that crashed on January 26.
Vanessa Bryant announced the plans for the memorial on Instagram earlier this month. "#2, #24, #20 years as a Laker and the amount of years Kob and I were together ❤️❤️💜💛," she captioned the memorial announcement, pointing to the significance of the memorial date, 2/24/20. The date holds a special meaning as it was chosen in honor of Gigi and Kobe's jersey numbers, 2 and 24, respectively. Kobe also played 20-years in the NBA.
Photo: Getty Images