6ix9ine Requests Early Release From Prison Due To Coronavirus Scare
By Peyton Blakemore
March 23, 2020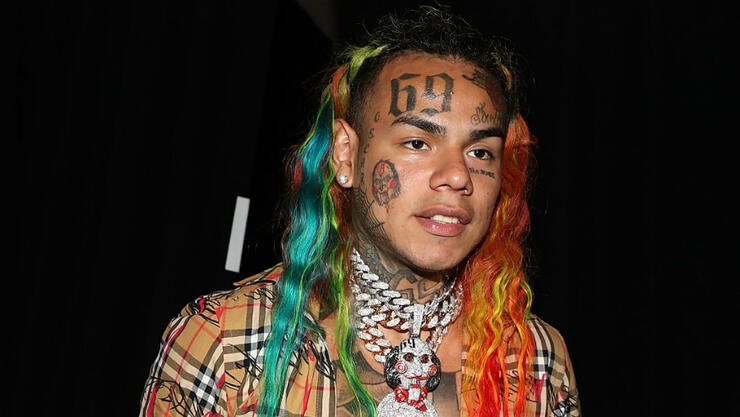 Like the rest of the world, Tekashi 6ix9ine is trying to take all precautions to not get coronavirus. In his case, he's attempting to get released from prison early as to not contract the virus while locked up.
According to TMZ, the imprisoned rapper's lawyer, Lance Lazzaro, wrote a letter to the judge in 6ix9ine's case on Sunday (March 22) asking that Tekashi be released early, citing serious concerns for the "FEFE" rapper's wellbeing behind bars. The letter came just one day after news that Harvey Weinstein tested positive in his New York prison.
6ix9ine's attorney noted that Tekashi, born Daniel Hernandez, suffers from asthma, which puts him at higher risk for severe illness if he does, in fact, get COVID-19. Additionally in Lance's letter, which was obtained by TMZ, he revealed that Tekashi was diagnosed with bronchitis and sinusitis late last year and was hospitalized for treatment. According to the attorney, the 23-year-old rapper also recently had shortness of breath, but prison officials won't let him see a doctor.
As fans know, 6ix9ine was sentenced to 24 months in prison with five years of supervised release in December. While he will be released on August 2, 2020, his attorney says Tekashi can't risk staying locked up any longer because is life is on the line, TMZ reports.
Prior to the COVID-19 pandemic, Tekashi's lawyer filed docs asking the judge to allow 6ix9ine to serve the rest of his 24-month sentence under home confinement or in a community correctional facility since 6ix9ine claimed his safety was seriously at risk because he ratted on his former gang. However, the judge denied the request in January.
Photo: Getty Images
Chat About 6ix9ine Requests Early Release From Prison Due To Coronavirus Scare