Morgan Wallen, Thomas Rhett And More Join Tim McGraw's '#DeepCutsChallege'
By Blake Taylor
March 23, 2020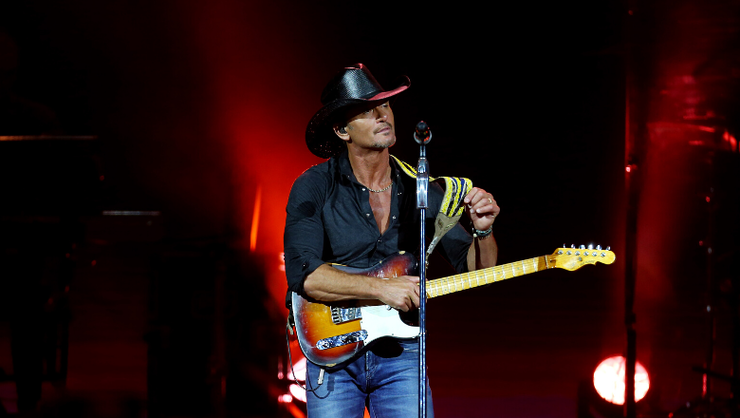 A new social media challenge is spreading among country music artists dubbed the "#DeepCutsChallenge." It all started over the weekend when Tim McGraw posted a video of himself singing John Schneider's "Take The Long Way Home."
"Who's got cool songs they've always loved to play when they're sitting around the house or when u were in high school or college?" McGraw wrote in the caption. "Here's one of my favs: @thejohnschneider's Take the Long Way Home."
He then went on to nominate fellow country artists including Kenny Chesney, Jason Aldean and Brad Paisley. "I know you got something," he said. "See what ya can reach back and play for us."
Paisley continued the trend with a cover of Steve Wariner. "Ok @thetimmcgraw I'll see your John Schneider and raise you some @stevewariner," Paisley said. "And I challenge @dariusrucker. But no Hootie covers. That's cheating. #deepcutschallenge"
Since McGraw's first video, the challenge has taken off. Darius Rucker played Foster & Lloyd and nominated Charles Kelley, Luke Bryan and Aldean again. Other artists who've joined in the challenge are Russell Dickerson, Morgan Wallen, Thomas Rhett, Luke Combs and more.
Videos from several artists participating in the challenge can be seen below. Stay tuned for more #DeepCutsChallenge videos throughout the next few days.
The #DeepCutChallenge is just one way country artists are trying to stay connected to fans as their shows for the foreseeable future have been cancelled or postponed. Many artists have also performed live stream shows from their homes while quarantined due to the coronavirus pandemic.
At this time, health officials with the U.S. Centers for Disease Control and Prevention have confirmed more than 15,200 cases of the coronavirus in the United States and 201 deaths. Globally, the virus has infected more than 332,900 people and killed more than 14,500 according to the World Health Organization.
To keep up to date on the latest news about the coronavirus and to understand what you need to stay safe and healthy, check out the Coronavirus: Fact vs Fiction podcast from CNN Chief Medical Correspondent Dr. Sanjay Gupta.
Chat About Morgan Wallen, Thomas Rhett And More Join Tim McGraw's '#DeepCutsChallege'