Pink Floyd To Stream Full Concerts For Free Every Friday
By Andrew Magnotta @AndrewMagnotta
April 16, 2020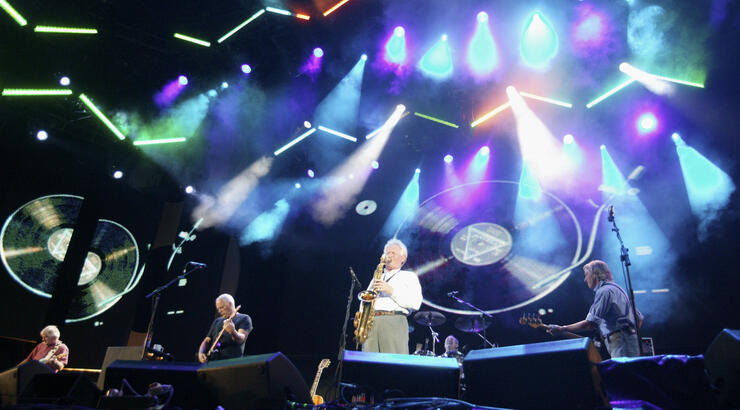 Pink Floyd is joining the ranks of major artists who will be live streaming archival concerts until further notice during the novel coronavirus pandemic.
The iconic progressive rock group had been sharing clips and short videos from its archives, but beginning Friday, April 17, at noon Eastern time the band will share full concerts.
First one up is Pink Floyd's 1994 Pulse concert film, recorded at Earls Court in London during the band's 'Division Bell Tour.' The film will be shared via YouTube.
"We'd like to wish you all the best, and hope that you and your families are staying safe and well in these difficult times," read a statement shared on the band's Facebook page. "We will continue to post as normal to hopefully give you some interesting and diverting images, music and video to help us all get through this."
Many acts are sharing live concerts in their entirety or performing regularly for fans via live stream.
Metallica laid claim to Mondays early in the pandemic's grip on the U.S. Fans can tune in to an archival show via YouTube at 8 p.m. ET for free. The band is taking donations to its All Within My Hands foundation during each broadcast. Two weeks ago, the band announced $350,000 in donations to several charities geared towards COVID-19 relief.
Legendary jam band Phish is treating fans to #PhishDinnerAndAMovie every Tuesday starting at 8:30 p.m. ET. Each week, one of the band members provides a dinner recipe for phans to enjoy during the live stream via webcast.livephish.com. The band announces a new charity beneficiary each week.
Radiohead will stream a concert every Thursday at 5 p.m. ET.
At this point, it's a good bet to check your favorite artist's social channels for news on what they're doing to stay busy.
There's also a growing number of virtual concert fundraiser events headlined by various artists, like the Elton John-hosted iHeartRadio's Living Room Concert for America, which raised $10 million for charity in March or the upcoming Jersey 4 Jersey pandemic relief benefit April 22, which is headlined by Bruce Springsteen, Halsey and Jon Bon Jovi.
Photo: Getty Images
Chat About Pink Floyd To Stream Full Concerts For Free Every Friday