'Jeopardy' Contestant's Strange Behavior Stuns Alex Trebek
By Dave Basner
April 28, 2020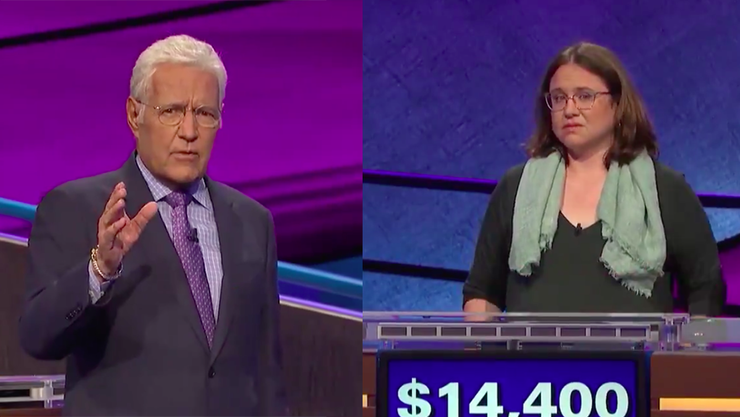 There have been over 8,000 episodes of Jeopardy, yet on an episode this week, something happened that has never before occurred. It took place during the Final Jeopardy round, as all three contestants unsuccessfully attempted to answer a clue about the Civil War. The clue was, "Before they were photographed together in 1862, Lincoln wryly noted this general 'should have no problem' sitting still for it."
Returning champion Sarah Jett Rayburn's wrong answer was "Grant," but before host Alex Trebek had a chance to reveal that correct response, Rayburn butted in, "McClellan maybe?" As Alex said, "Yes," Sarah kept talking, explaining, "I wasn't sure. I second-guessed myself on that one a little." Then apologized, stating, "Sorry, I shouldn't be talking now."
Trebek gave her the floor though, allowing her to talk because "there are people watching saying, 'Why didn't she put down McClellan?'" So she went on, "I was afraid that, you know, Grant seemed safer, you know what I mean? And I thought... But anyway, I'm sorry."
Alex made note of the occasion, saying it was the first time on the show a contestant gave an explanation of why they picked their response.
The incorrect response cost Sarah $6,000 but she still won the game and got $8,400 too, bringing her grand total for her two wins to about $40,000.
However, the Final Jeopardy response wasn't the only time Rayburn caused a stir on the episode. The stay-at-home mom from Texas epically incorrectly answered the $2,000 clue under the category "The Zulus" during the Double Jeopardy round. That clue asked about a holiday the Zulus celebrate each September 24th to honor a warrior leader of theirs from the early 1800s. Sarah's response? "Who is Chaka Khan?" The correct answer, which one of her opponents got, was "Who is Shaka Zulu?"
Jeopardy has suspended production in the wake of the coronavirus pandemic but episodes filmed before they stopped shooting are currently airing.
Photo: Twitter/Je
Chat About 'Jeopardy' Contestant's Strange Behavior Stuns Alex Trebek