Mötley Crüe Couldn't Turn Down Opportunity To Tour Stadiums, Tommy Lee Says
By Andrew Magnotta @AndrewMagnotta
June 12, 2020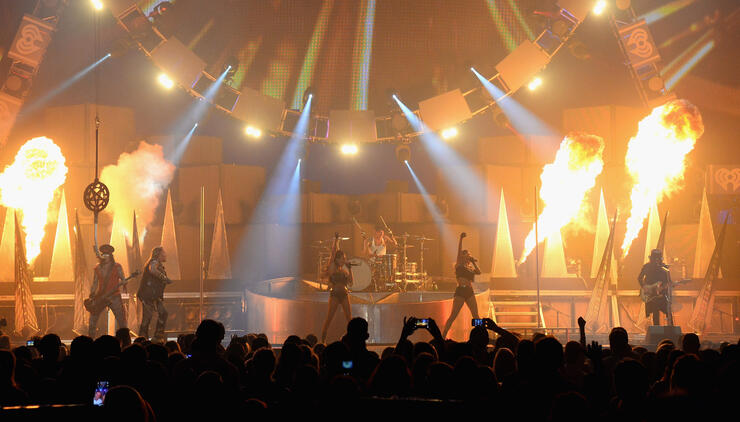 Tommy Lee says Mötley Crüe agreed to reunite five years after its 'Final Tour' because the band was given the opportunity to do something it had never done before: tour stadiums.
In the years between the band's farewell tour and the success of The Dirt biopic last year, the band members repeatedly denied that there was any possibility for a reunion.
Rumors began picking up steam in November and the band announced its 'Stadium Tour' with Def Leppard, Poison and Joan Jett & the Blackhearts.
Lee was asked by SXM's Debatable about what ultimately led to the unanimous change-of-heart.
"We didn't really speak to each other for probably a year [after the 'Final Tour']," Lee said. "Everybody just went and did their own thing. And here it is four years later, Live Nation asked us if we'd like to do a stadium tour, and all of us were like, 'Ehh...' And then we thought about it for a minute. We were like, that is the one thing that this band has never done. Yeah, we played stadiums on festivals all over the place, but our own stadium tour? We were like, 'Hold on. Let us think about this. Okay.'"
Officially announced in December, the tour had already sold over 1 million tickets and earned over $130 million by the end of January.
The tour was supposed to begin on June 18, but the band postponed it to 2021 due to the novel coronavirus pandemic.
While no one wants to wait a whole year for the tour to start, Lee says that when Crüe gets back out there, it will have a 'f---ing bananas' show, unlike anything people have seen from them in the past.
Photo: Getty Images
Chat About Mötley Crüe Couldn't Turn Down Opportunity To Tour Stadiums, Tommy Lee Says