Second Stimulus Check Proposal Revealed: Who Will Get It And How Much Is It
By Dave Basner
July 24, 2020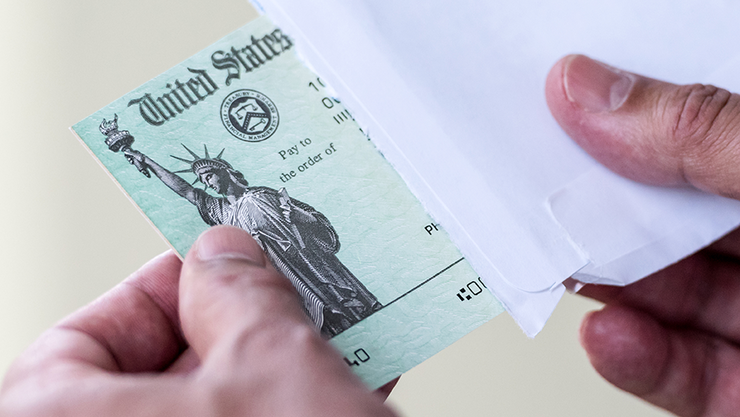 On Thursday, the Senate Republicans were set to unveil their proposal for the next stimulus package, however the White House asked for more time to review the plan so it now won't be out until early next week. However, one thing we did learn is what they want the second stimulus check to look like.
According to The Hill, Republicans have negotiated the next check with some Democrats, as well as the White House and Treasury Secretary Steven Mnuchin announced that it will be just like the first stimulus check, which was part of the Coronavirus Aid, Relief, and Economic Security (CARES) Act. Mnuchin stated, "We're talking about the same provision as last time, so our proposal is the exact same proposal as last time."
So what does that look like? Well just like the first go-round, it would mean a check of $1,200 to Americans who qualify, plus $500 extra for dependent kids under 17 years old. Anyone making less than $75,000 will get the full benefit, while those who make more will get $1,200 minus 5% of the amount they earn over $75K. Meanwhile, joint filers who earn less than $150,000 get the full benefit and those who make more will see their check reduced by 5% of the amount over $150K they make.
Even though Republicans discussed their proposal with Democrats, there is no word on if both sides of the aisle will agree on it. There are also plenty of other sticking points between the parties with various aspects of the bill, like unemployment benefits, state and local financial assistance, and liability protection for businesses, schools and hospitals. The Republicans will officially reveal their proposal on Monday and then the Senate will debate the terms of it. Hopefully they can come to an agreement quickly and pass a bill before August 7, when they take their summer recess. If they do, expect checks to go out about 13 business days after a package passes.
Photo: Getty Images
Chat About Second Stimulus Check Proposal Revealed: Who Will Get It And How Much Is It