JoJo & Demi Lovato To Join Forces On 'Lonely Hearts (Remix)'
By Paris Close
August 6, 2020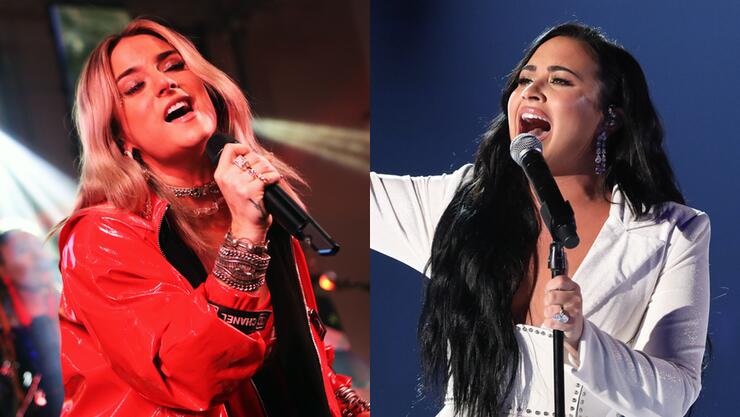 JoJo and Demi Lovato are linking up for a powerhouse duet!
On Wednesday (August 5), the singer-songwriter announced she's enlisted the fellow pop star for a remixed version of her track, "Lonely Hearts." The record appears on JoJo's most recent LP, good to know, and Lovato will feature on a new version of the song, premiering on August 28.
"Lonely Hearts (Remix)" w the INCREDIBLE Demi Lovato," JoJo captioned a promo poster for the remix. "I can't wait for you to hear her on this … ps- you're a real one baëb."
Equally excited about the project was Lovato's hubby-to-be, Max Ehrich, who reacted to the news with a series of fire and heart emojis.
"Lonely Hearts" is a fan-favorite from JoJo, whose song touches on insecurities and learning to find strength through self-care, self-reliance, and self-improvement.
It's a no-brainer how Lovato, who has been on a self-love journey of her own, could probably see herself reflected in the song's pressing verses. Like on the bridge, when JoJo sings, "I'm likin' bein' alone/ Emotions under control/ Right now is only for me/ Just tryna find myself/ I don't need nobody's help/ So don't take it personally."
The "Lonely Hearts" remix will be Lovato's latest collaboration after releasing "I'm Ready" with Sam Smith in April. Prior to that, she'd released two songs, "Anyone" and "I Love Me," from her upcoming seventh studio album, which has yet been announced.
It's anyone's guess when Lovato's new record will arrive, but her fiance Ehrich did tease his fiancee's new music left him "in awe."
Photo: Getty Images
Chat About JoJo & Demi Lovato To Join Forces On 'Lonely Hearts (Remix)'