Luke Bryan On Why He Won't Perform Live Shows Yet Amid COVID-19
By Blake Taylor
August 10, 2020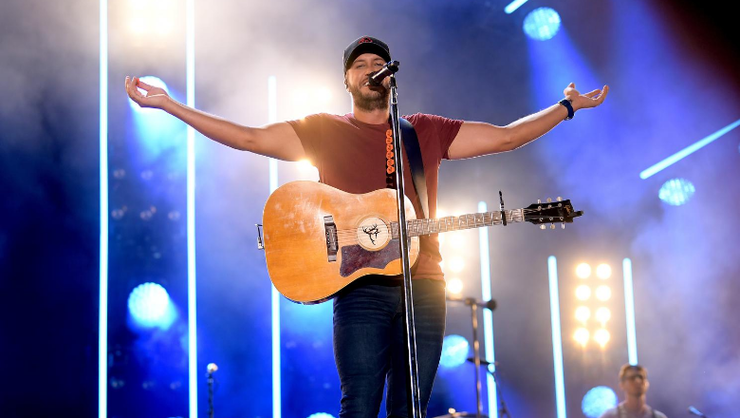 This time of year Luke Bryan would usually be out on the road touring, however the coronavirus pandemic forced him, along with many other artists, to cancel all live shows. As some states ease their restrictions, Bryan says he's still not comfortable putting on a live concert quite yet.
"You don't want to be the sacrificial lamb," the country star said in an interview with the Los Angeles Times. "If I've made decisions on not doing shows, it's because let's see what we're truly dealing with."
Bryan explained further that it's a tricky situation when it comes to planning for the future because "we're still learning what this virus is every day."
"It's all out of whack," he added.
The "One Margarita" singer referred to his annual Farm Tour, which he had to cancel, as an example of why it's simply not worth the risk.
"I've got these Farm Tour shows, where say you got a 10-by-10-square-mile field, and you put a huge stage in it and you tell everybody to stay six feet apart and wear a mask," Bryan began.
"I'm like, 'We could make this happen where if somebody called bulls— on us, we could technically go spray-paint six-foot circumferences.' But I just can't imagine that germs aren't getting spread,'" he said.
Bryan might not be going on tour anytime soon, but he's still entertaining fans in the mean time. On Friday (August 7), the country star released his seventh studio album, Born Here Live Here Die Here.
The new project features 10-tracks including his singles, "Knockin' Boots," "What She Wants Tonight" and his latest No. 1 hit, "One Margarita." Other songs released ahead of the full album include the title track, "Born Here, Live Here, Die Here" and "Build Me A Daddy."
Born Here Live Here Die Here is available to stream now!
Chat About Luke Bryan On Why He Won't Perform Live Shows Yet Amid COVID-19