Brian Johnson Thought He Was Disappointing Fans Before His AC/DC Departure
By Andrew Magnotta @AndrewMagnotta
August 17, 2020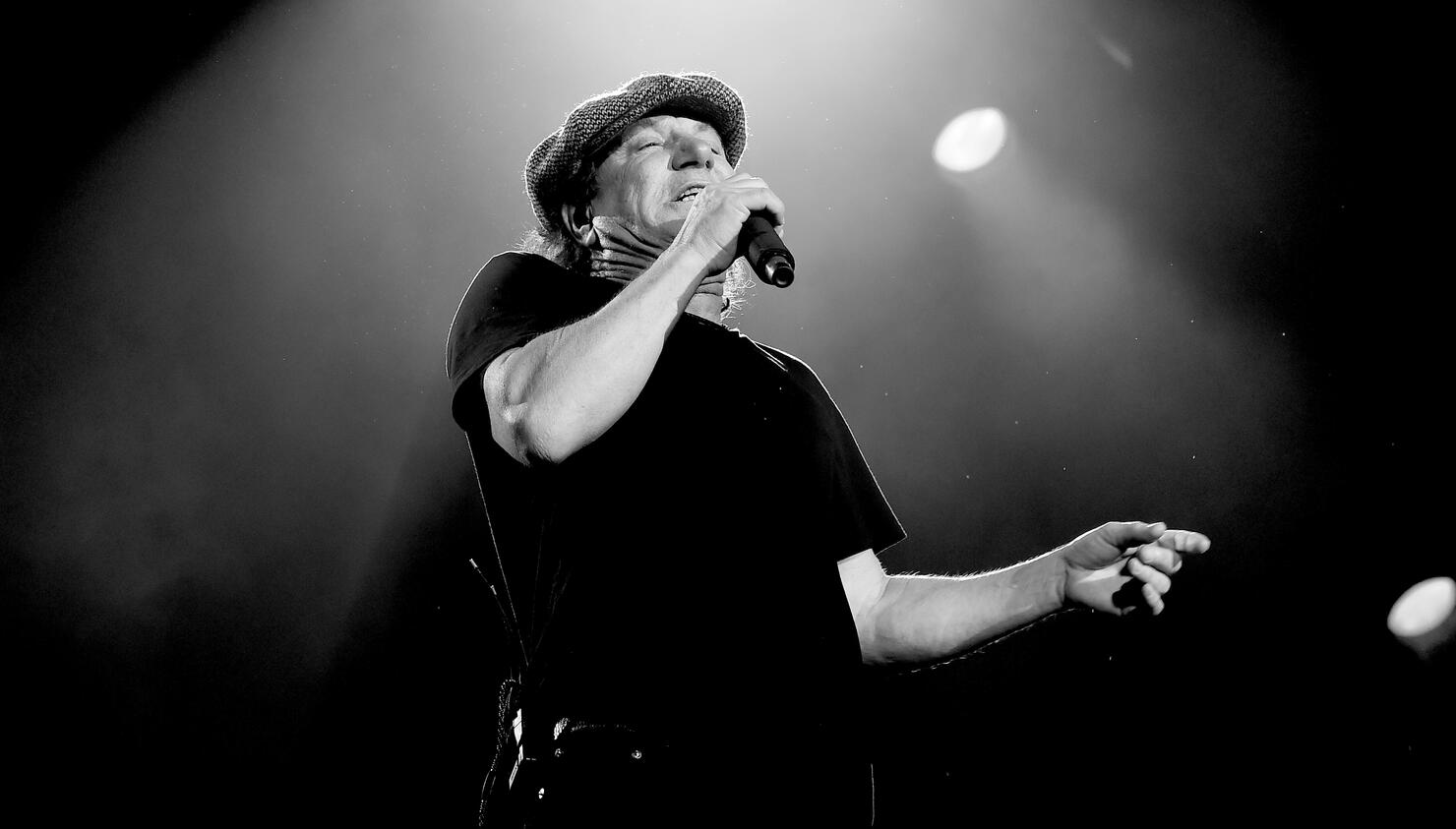 While AC/DC's classic lineup has presumably been reconstituted with its surviving members since the band's 'Rock or Bust' world tour, (possibly former) drummer Chris Slade is recalling what the feeling was like in the band before Brian Johnson stepped away.
Rolling Stone recently checked in with Slade in a career retrospective conversation from quarantine. He was asked what happened leading up to Johnson's 'Rock or Bust' departure.
"Brian was getting unhappy. He kept saying, 'I'm feeling bad. I'm feeling bad for the fans,'" Slade recalled. "I wear in-ear monitors. First time I ever used them. I could hear everything perfectly, including Brian."
He continued: "I kept going, 'Brian, it's really not as bad as you think it is. I know you have professional pride. But you keep saying you screwed up. It's really not as bad as you think.'"
Regardless of how Johnson actually sounded, the frontman didn't feel like he sounded good enough to justify the price of admission. Due to an old auto-racing injury, Johnson's hearing had deteriorated to the point where he couldn't really tell.
In 2018, Johnson told the Sunday Times that before he left the tour he could barely hear anything onstage "...I was basically going on muscle memory," he said.
Slade recalls the band halting the 'Rock or Bust' tour in Miami. Though he was initially kept out of the loop as to what was going on, the crew eventually filled him in.
Johnson had gone home, and AC/DC needed to find a new singer or cancel the tour.
The band eventually traveled up to Atlanta, Georgia, where it auditioned several vocalists before settling on the biggest and most controversial star of the bunch: Axl Rose.
Slade says he was as perplexed by the choice as most fans were, but he was ultimately blown away by Rose's voice, his professionalism and his kind personality.
Recent evidence suggests that Johnson has since returned to the band. He has touted cutting-edge in-ear monitors as giving him back his ability to hear onstage and has performed live a handful of times since leaving the 'Rock or Bust' tour.
Johnson was also among several members of AC/DC to have been spotted at the band's favorite recording studio, The Warehouse, in Vancouver, British Columbia, Canada, in 2018.
If AC/DC does indeed have a new album on the way, Slade is not involved. He told Rolling Stone that he was never informed that his stint with the band was over — though he's aware that drummer Phil Rudd (the man he replaced, twice) was spotted with Johnson and other AC/DC members at The Warehouse.
Photo: Getty Images