Max Ehrich Lashes Out At Demi Lovato For 'Exploiting' Their Breakup
By Paris Close
November 20, 2020
Whew! Things between Max Ehrich and Demi Lovato are getting tense.
Lovato's disgruntled ex-fiance had some strong words for her last night (November 19) after she threw some subtle shade at him this week. ICYMI: The "I Love Me" superstar hosted E! People's Choice Awards this past weekend, and she used her opening monologue to take a slight jab at her broken-off engagement to the Young and the Restless actor.
"COVID hit and everything shut down, so I did what everyone else did, I went into lockdown mode and got engaged," Lovato quipped, jokingly adding, "I binged seven seasons of Pretty Little Liars, got unengaged, then went looking for aliens in the desert, so basically the same as everyone else."
Although it seemed more or less a lighthearted jab, Ehrich didn't see it that way. Clapping back under a recent snapshot on IG of Lovato flaunting her newly-shaven hairstyle, the 29-year-old commented: "Exploiting our breakup for clout at PCA is not chill." (He's made these allegations before, btw.)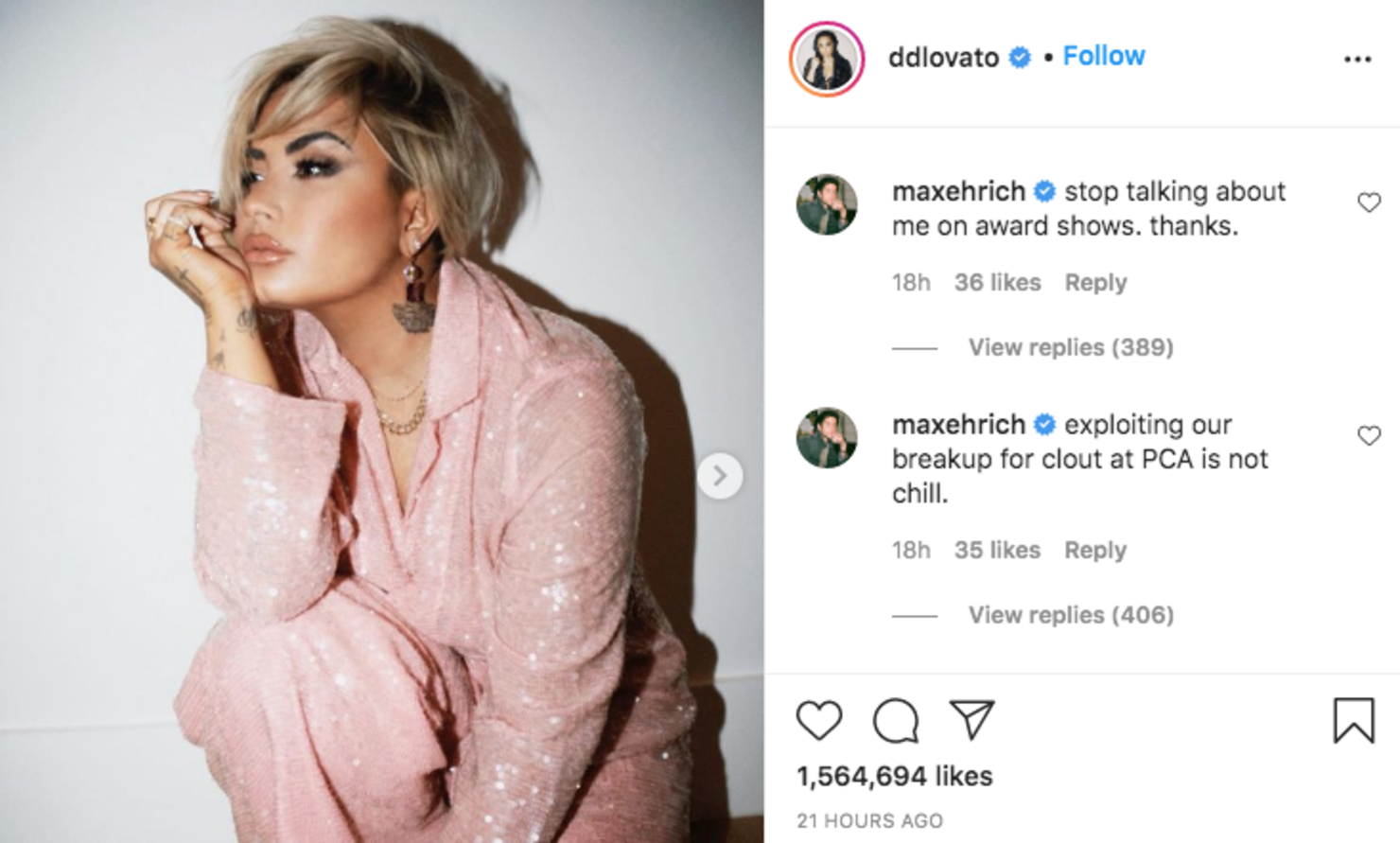 "Stop talking about me on award shows. Thanks," Ehrich added, sparking immediate outrage among Lovatics.
"If you was over demi, you wouldn't care if she was talking about the engagement. It's over. Get over it," one user wrote in defense of Lovato. "Demi is living life and doing as she pleases. Let her be."
Nonetheless, the Disney alum appears to be entirely unfazed by Ehrich's post-breakup antics — his most ridiculous being a so-called diss track.
As if it weren't obvious already, the "Still Have Me" musician and Ehrich didn't quite end on amicable terms. The songbird — who dated Ehrich until he proposed to her in July — endured a publicity nightmare in the months that followed.
Photo: Getty Images